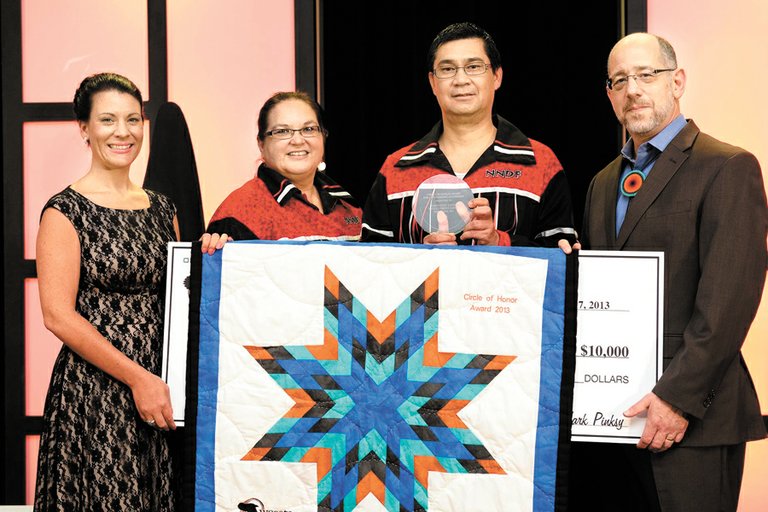 Originally published October 31, 2013 at 9:51 a.m., updated October 31, 2013 at 11:45 a.m.
/lk
NESPELEM — The Northwest Native Development Fund has received the national Circle of Honor Award for helping to empower poverty-stricken, rural areas of the state through financial inclusion and economic opportunities.
The Opportunity Finance Network and First Nations Oweesta Corp. gave the award to the Nespelem-based fund headed by Ted Piccolo.
The award was announced during the 10th annual Native Community Development Financial Institution Convening.
"We are humbled and honored to have received the Circle of Honor Award," Piccolo said. "This is the highest honor that a native CDFI can receive in our field, and it shows that our hard work is recognized by a national native CDFI organization and by a national non-native organization."
The Circle of Honor Award recognizes a native community development fund is successfully increasing access to capital and financial resources in native communities by developing innovative loan products, promoting community development and overcoming challenges.
Northwest Native Development Fund was created by a group of tribal members who recognized that in order to build a healthy, culturally rooted community with opportunity and hope, financial strength and economic empowerment must be provided.
"The rural and rugged nature of the Colville, Spokane and Kalispell reservations lend the community to great beauty but also great poverty," the award announcement said.
"We simply want to try out best every day to bring opportunity and financial solutions to our community," Piccolo said. "We just want to be known as the 'little loan fund that could.'"
In 2010, the organization began providing access to reasonably priced capital, training and technical assistance to help community members build a strong financial base. It works with state and tribal governments to improve the infrastructure and economic opportunities on the reservations.
The fund was selected from a highly competitive group of nominees and was selected for demonstrating strong financial performance, diversity in creating lending products and development services to serve its target market, and the commitment to advancing asset building efforts for native communities on a local, state and national level.