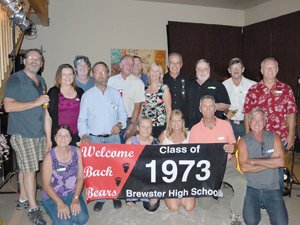 Originally published September 4, 2013 at 5:02 p.m., updated October 2, 2013 at 5:02 p.m.
/lk
The Brewster High School Class of 1973 recently celebrated its 40-year reunion with 19 graduates in attendance. A potluck and barbecue were hosted by David and Jinx Freels, where classmates enjoyed old photos, reminisced and read class wills and prophecies.

Pictured from left are, front row, Mona Frost Clauson, Carleen Lawless, Diane Walker Shaw, Don Becker and Paul Madden; back row, Art Morris, Jody Gebbers Crane, Dan Pariseau, Mark Carlson, Mike See, Jerry Evans, Debbie Gaines Mitchell, David Freels, Vern Westerdahl, Jerry Alexander and Robert Bowman. Cassandra Smith Peterson, Cathy Wyrick Westerdahl and Duane Wolley attended, but are not pictured.