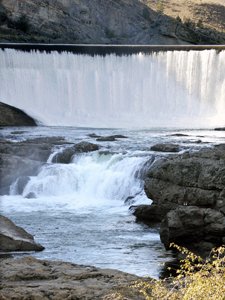 Originally published September 4, 2013 at 4:50 p.m., updated October 2, 2013 at 4:50 p.m.
/lk
OROVILLE — When it comes to resurrecting a means of generating power through Similkameen Falls, the most contentious debate has been about the impact on aesthetics.
Conservationists argue Enloe Dam, should the powerplant restart generation, would reduce water over the falls downstream to a trickle, affecting not only the natural beauty, but local tourism.
In an interview with The Chronicle earlier this year, Jere Gillespie of the Columbia River BioRegional Education Project likened the effect to "stretching a ribbon across a football field."
"Right now, what you hear is the sound of falling water and what you see is really quite an extraordinary display... What you'll hear instead is the industrial hum of the (Okanogan County Public Utility District's) facility as they divert that water through a pipe," Sierra Club member John Osborn said in a previous Chronicle interview.
The state Department of Ecology issued a water-quality permit for the dam in 2012, and it's been tied up in litigation ever since. It requires the utility to leave at least 30 cubic feet per second of water in the river between July and September, and 10 cfs the rest of the year.
The natural flow of Similkameen Falls ranges from 500 to 7,000 cfs, depending on the time of year, statistics show.
The utility and Ecology have countered that spilling more water over the falls could raise the water temperature, which can be harmful or even deadly to fish.
A decision is still pending from the state Pollution Control Hearings Board, which was asked to clarify its July 23 order regarding water temperature.
The order ultimately upheld the water quality permit, provided that the utility and Ecology conduct a study over three years to determine if the minimum approved water flow over the falls is enough or needs to be changed.
The utility filed a response Aug. 13, urging the state board to deny the petition, noting some of the most outspoken individuals, such as Gillespie and Oroville resident Joseph Enzensperger, said during testimony in May that protecting salmon was more important than aesthetics.