Wednesday, April 9, 2014
/lk
SPOKANE — Congresswoman Cathy McMorris Rodgers is encouraging high school students throughout Washington's 5th Congressional District to participate in the 32nd annual Congressional Art Competition.
The district includes Ferry County.
The contest, "An Artistic Discovery," began in 1982 as a way to recognize and encourage the artistic talent of America's youth.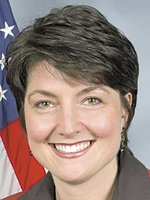 "This competition is a unique opportunity for students to showcase their artistic abilities and represent Washington's 5th District in our nation's capital," McMorris Rodgers, R-Spokane, said. "I'm excited to celebrate the extraordinary talent of our students."
The winning student will be invited to Washington, D.C. for a ribbon-cutting ceremony and will have his or her artwork displayed in the U.S. Capitol for one year.
The second-place entry will be on display in the congresswoman's Spokane office.
Students can submit various styles and types of art, ranging from paintings and drawings to photography and mixed media pieces. The artwork must be original in design, no more than 15 pounds, no larger than 28-by-28-by-4 inches, and be prepared for hanging.
Each student may submit one piece of art to the Congresswoman's offices in Spokane, Walla Walla, and Colville.
The winner of the competition will also receive two airline tickets from Southwest Airlines to come see his or her artwork as it is displayed.
The submission deadline is April 23.
For more information, email Kristy.Sauer@mail.house.gov.