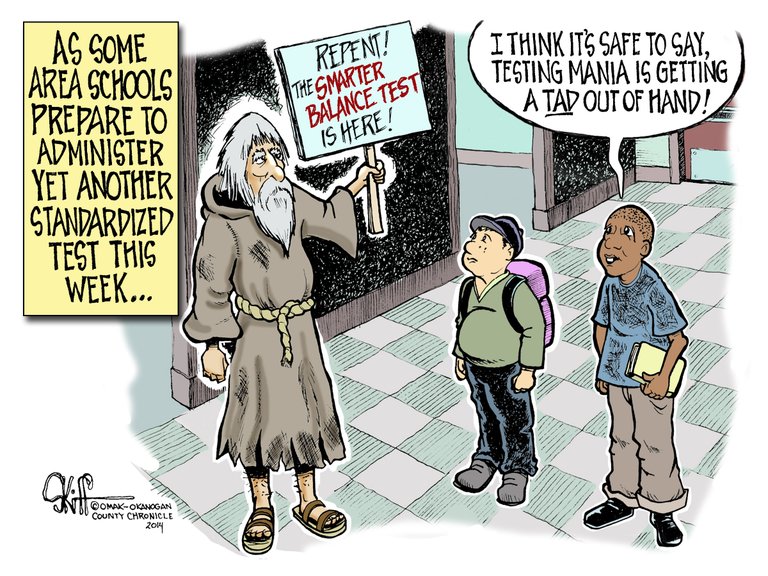 Wednesday, April 23, 2014
/lk
Some roads should be closed to vehicles
The state Department of Natural Resources and the Nelson family have set a great example by keeping the Lockman Pass Road closed to private motor vehicle travel. As a result, this area is relatively free of littering and dumping, vandalism, and the erosive renegade "trails" and noise attendant with ATV and ORV use.

As a side benefit, the state money saved on road maintenance should appeal to any remaining true fiscal conservatives.

I applaud Kevan Roberts of Natural Resources, for his response – as quoted in Roger Harnack's April 16 column – that access is fully (and pleasantly, I might add) available to pedestrians and bicyclists who have permission to cross from the private landowner at the north end of the road.
Bureau of Indian Affairs Road 1015, through "The Pothole," which also accesses the area in question, is an anti-example. This road is severely blighted by littering, numerous truckloads of egregious garbage dumping, and many gashed out ATV and ORV "trails." It ought to be closed to private motor vehicles, like many other similar roads.
The blame for these problems is indeed owned by the community of motorized vehicle users, however small the percentage of perpetrators therein may be. These problems will never be eliminated by any means other than enforced closure.

Those of us with the moderate wherewithal needed for non-motorized recreation, whether we be a minority, and the land itself, should not rightly have to suffer the depredations of motorized vehicle users who abuse their privileges.
Robert Kendall, Omak
---
State unlawfully blocks road access
In your April 15 column, "Agency should reopen gated road," the state lands in question are the Riverside school trust lands. The Chronicle is correct that it is used as a private hunting and recreation area used by the state lands agencies and private land holders that own the access.
There isn't public access unless it is on foot at certain limited access points. I have tried to find access into the interior of these public lands on horseback and I was unsuccessful because of rough rocky terrain. There is a road running through the interior, but it is blocked.  
What is interesting is that the state sells grazing leases for this area and the last time I inquired there were two grazing leases. State law, under Revised Code of Washington 79.10.125, says any state land used for grazing or agricultural purposes shall be open and available to the public for purposes of hunting and fishing and non-consumptive wildlife activities. I asked for reasonable access from the state and was denied.  
The only reasonable access is via trails or roads that are blocked.
I reminded the state lands official about RCW 79.10.125 and was told, in so many words, the state was not interested in following the law and too bad for me.
Bill Huhn, Omak
---
Have patience with the sewer project
The men and women installing our new sewer system are doing a great job. The "open" winter allowed them to continue with their hard work.
In spite of those who would criticize them, they are still smiling. Those criticizing the project should grab a shovel and help or try living a week or more without a sewer or running water. Otherwise, they should keep quiet.
I am probably one of the few left in Omak who grew up without indoor plumbing and hot water in the house.
The outhouse had to be moved every five years – a big occasion. Lime had to be added to eat through the contents. The door had to be kept closed or else our chickens would get inside and fall into the "stuff" below. (It was my duty to get the chickens out; not an easy task.)
Water had to be heated in kettles on a wood stove. Baths were taken in a metal tub in front of an open door of the stove. Younger kids got the first bath; the older ones got the used water. That was the way it was.
It is still a miracle to me every time I turn on the faucet and see water coming out or flush the toilet and not have to make that run out to the outhouse. Since our outhouses were next to the woods, we could imagine all kinds of man-eating creatures out there at night waiting to grab us. When we were done, we shut the door and raced like mad to the house.
The "good ole days" weren't always that great.
So, have patience. The sewer project will be finished soon and everyone will enjoy new paving and never having to worry about using the outhouse or carrying water.
Be grateful to the good Lord for the miracles you have in your home and the men and women installing them.
Lorraine Derig, Omak
---
Stop printing hateful letters
A previous letter published April 16 is the latest and most offensive of a long chain of hate-speech you have published. The writer aims at our president, gays, atheists, Muslims or his target du jour.

The racist overtones and willfully ignorant repetition of familiar lies about Mr. Obama's religious beliefs cross the line of decency and have no place in a newspaper that has any respect for truth and civil speech.
The references to pedophilia (Sandusky) and terrorism (Hassan) are reprehensible.  
I cannot imagine what dark, twisted version of Christianity motivates such hatred. That you continue to print such execrable nonsense tars you with his brush.
Bob Goodwin, Omak
---
School meeting was inconvenient
I am greatly disappointed the Omak School Board canceled its scheduled March 25 meeting.  I am even more disappointed the meeting was quickly re-scheduled and took place Wednesday morning, April 2, during spring break.
The future of career and technical education is a concern among many in the Omak community, and several people were planning on voicing their concerns at the regularly scheduled meeting. I have to wonder if it was intentional to re-schedule the board meeting at such an inconvenient time. 
The action leads me to believe the board has its own agenda regarding career and technical education.
I still wonder how the community feels about losing the wood shop, agriculture, and family and consumer sciences programs. (All of which the district receives additional funding for.)
I wonder if the community will they get a chance to be heard?  I wonder how this will affect the Okanogan School District. I also wonder about the beautiful career and technology building the taxpayers helped build just a few years ago. 
It looks like it is being taken over by an alternative school program.  Hmm… just wondering. 
Paige Patrick, Okanogan
---
Easter cartoon is in 'bad taste'
Wow, Chronicle! I received your "Happy Easter" political cartoon greeting in the April 16 edition of the newspaper.
Most households in the valley celebrate the occasion as a Christian holiday, a coming of spring or a family gathering with bunnies, colored eggs and kids.
Your extremely bad taste is offensive to me, as well as disappointing. Did the Easter bunny hide rotten eggs in your basket?
Alice Frost, Coulee Dam