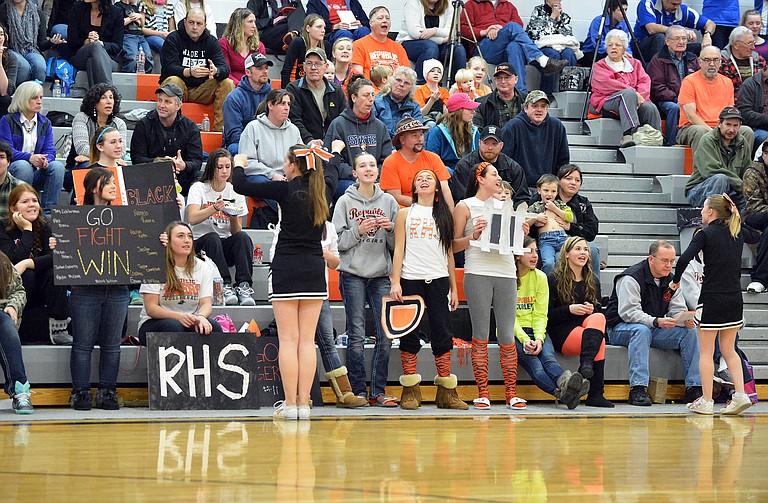 Thursday, December 18, 2014
/lk
REPUBLIC — Ferry County rivals Curlew and Republic battled each other in basketball, with each school winning one game and moving atop their respective league standings.
The No. 4 state-ranked Republic girls blasted Curlew 73-22 and improved to 6-0 overall, 3-0 in league an first place in the Northeast 1B League.
Curlew fell to 3-3 overall, 3-1 in league and second place, a half game ahead of Inchelium at 2-1 (3-1 overall).
Curlew's boys possessed a bit more speed than Republic in winning 88-74 in the nightcap.
The Cougars (5-1 overall), which scored 20 or more points in each quarter, share first place with Selkirk (4-1 overall) and Cusick (3-3 overall), who are 2-1 in league.
Republic is 2-2 overall, 1-2 in league.
Other regional scores
Girls
Tuesday scores
Lake Roosevelt 55, Bridgeport 43
Oroville 66, Liberty Bell 33
Okanogan 51, Manson 10
Brewster 40, Tonasket 32
Pateros 73, Thorp-Easton 14
Entiat 57, Kittitas 51
Thursday games
Chelan at Okanogan
Entiat at Soap Lake
Friday games
Moses Lake Christian Academy at Pateros
Tonasket at Okanogan
Liberty Bell at Brewster
Bridgeport at Oroville
Manson at Lake Roosevelt
Saturday game
Oroville at Pateros
Boys
Tuesday scores
Lake Roosevelt 58, Bridgeport 22
Liberty Bell 61, Oroville 44
Okanogan 68, Manson 44
Brewster 88, Tonasket 39
Pateros 73, Thorp-Easton 16
Entiat 52, Kittitas 35
Wednesday games
Entiat 57, Cascade Christian 13
Thursday games
Chelan at Okanogan
Friday games
Moses Lake Christian Academy at Pateros
Tonasket at Okanogan
Liberty Bell at Brewster
Bridgeport at Oroville
Manson at Lake Roosevelt
Saturday games
Riverside Christian at Entiat