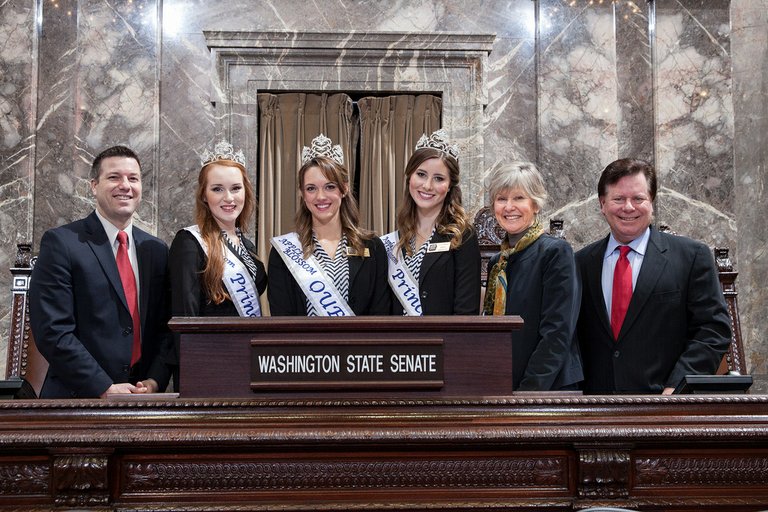 Originally published February 25, 2014 at 1:10 p.m., updated February 24, 2014 at noon
/lk
OLYMPIA — The 2014 Apple Blossom court, chosen just a couple weeks ago, visited the state Capitol yesterday to be recognized by state lawmakers and promote the Apple Blossom Festival in Wenatchee.
Apple Blossom Queen Roslyn Thompson, Princess Caroline Dahl and Princess Nikara Morgan traveled to Olympia and visited with 12th District Reps. Cary Condotta and Brad Hawkins.
"The Apple Blossom Royal Court coming to Olympia has been a long-standing tradition," said Condotta, R-East Wenatchee. "It is a great experience for the royal court, and is a reminder to all legislators how important our fruit industry is to Washington state."
"These young women not only represent a bright future for our state, but they are great role models and representatives of Central Washington," said Hawkins, R-East Wenatchee. "I was pleased to meet the court and I know their time here in Olympia promoting the festival was productive."
Both lawmakers' districts also include a portion of Okanogan County.
The girls also visited Assistant Secretary of State Ken Raske and Supreme Court Chief Justice Barbara Madsen, and had the chance to speak before the Senate, be honored in the House and take a tour of the Capitol building.
They were chaperoned by Pat and Adele Haley and Lori Reed.