Wednesday, January 1, 2014
/lk
Going through back issues of The Chronicle, it's been fun to reminisce a little about some of the stories that made headlines and the memorable photos that have captured moments.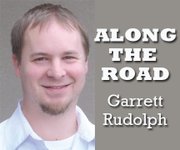 This week marks my 10th month of living and working here and after helping put together the Top 10 news and sports stories for Okanogan and Ferry counties, I thought I'd put together a list of my 10 favorite events that I covered.
These weren't necessarily the biggest stories of the year — they were events that were entertaining or kept me interested more than just for the sake of my job.
Here they are, in no particular order:
• The World-Famous Suicide Race. I wrote a column about the Suicide Race in August after seeing it for the first time, and I still believe it's the event that puts Omak on the map. Of course it wouldn't exist on its own without the Omak Stampede, but the Suicide Race is what makes the rodeo stand above dozens of other rodeos across the Northwest.
It's a sheer thrill and a display horsemanship unlike anything else I've ever seen.
• "The Nutcracker" presented by the Children's Dance Theater. Until this winter, I think it had been 20-some years since I'd last seen "The Nutcracker," so I didn't really know what to expect — especially with the "country-themed" caveat of this particular performance. However, I was pleasantly surprised that the country theme didn't overwhelm the classic story and it was a great event to photograph.
• The Low Rider Races at the Okanogan County Fair. Racing wiener dogs. Need I say more?
• The Wag 'n' Run Dog Splash. I tend to have a soft spot for dogs, but man's best friend just so happened to be the stars of two events I covered this year. And both, in their own way, were great opportunities for photos. Where the Low Rider Races featured only small dogs, the splash at the Omak pool was a free-for-all with mutts of all sizes and shapes enjoying a swim.
• Halloween events. From the Zombie Fun Run to the pie-eating contest at Civic League Park to the Hallelujah Carnival and the Haunted Scaregrounds, I thought the Halloween events in the area were a great fun.

• "Spamalot" presented by the Okanogan Valley Orchestra and Chorus. I laughed more at "Spamalot" that at any movie I've seen in at least the past year. Even months after the seeing the performance, I will catch songs getting stuck in my head.
• Fourth of July at East Side Park. With hundreds of people all simultaneously lighting off fireworks pointed in who-knows-what-direction and youngsters running every which way, it's truly a testament to common sense and sheer luck that Omak's Fourth of July extravaganza goes off as smooth as it does.
• The OK Friendly Car Show. I went to a number of car shows in the past 10 months, but after a while, you start seeing many of the same vehicles. The one that stood out to me was the OK Friendly Car Show, just for its sheer size and variety, as well as the swap meet.
• Veteran's Day. This wasn't a specific event, but I sat down for an hour or so with World War II veteran Doug Hull two days before Veteran's Day for an interview. Something like that may not be as fun as a car show or a horse race, but it's truly an honor to be able to tell the stories of veterans that served our country — particularly those that fought in World War II so that piece of history can be preserved before it's too late.
• The Animate Objects Circus. Circuses are not my favorite events in terms of entertainment value, but every time I watch one, I'm amazed at the amount of talent the performers have — and how much time they must have put into perfecting their craft.
Garrett Rudolph is the managing editor of The Chronicle. He can be reached at 509-826-1110 or via email at grudolph@omakchronicle.com.