Wednesday, January 1, 2014
/lk
I find myself torn at the end of 2013 between writing about eating healthy during the holidays, pursuing your passion in the New Year or finding happiness at this time of year while creating memorable quotes.
I won't be writing about how our state's teams "couged" it the weekend of Dec. 21-22. I did that in The Chronicle's Sunday edition, where I write about a single subject.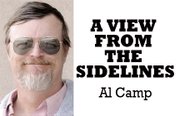 I normally write about a variety of subjects for Wednesday's column.
But I got to thinking, always dangerous for a sports writer, while going through last year's papers in search of material for our Top 10 sports stories of 2013 in this edition.
I saw a lot of people I knew in the obituaries, which in the end made me consider what was important in life.
What a great world we'd live in if what really mattered was how much love we give and receive.
The holiday season often becomes a source of concern about finances, anxiety about gifts or preparing special meals, putting up with in-laws (mine were super, by the way), not being able to be with loved one such as distant parents or siblings or children.
I have a terrible time knowing where I fit in the world.
Former Brewster High School Athletic Director Brooks Smith chided me at a recent game when I said I didn't think anyone read my online standings, especially with the remodeled website that erased 13 years of standings.
"You are appreciated," Smith said.
I sure appreciated that.
Then I recently ran across this Jewish teaching that says everyone should carry with them two pieces of paper, each in a separate pocket. One paper should say, "I am but dust and ashes." The other, "The world was created for me."
We are all capable of incredible things to improve the world, and yet we are just a tiny speck in the universe, is how co-author Jane Schwartzberg interpreted the saying in her newly released book, "Naked Jane Bares All."
"Powerfulness and humility can, and do, exist for me side by side," said Schwartzberg, who is finding what is important in life after being diagnosed with stage four incurable breast cancer.
"It's not a table full of food or gadgets you can't afford. Approach this holiday season as if it could be your last, and you'll probably find much more to revel in than to stress about."
As we travel through this holiday season, keep in mind that the best gift you can give – or receive – is love.
While the Loup Loup Ski Bowl and Sitzmark Ski Area await enough snow to open this winter, Stevens Pass opened all its lifts, snowshoeing is going strong in Mazama, free fat tire demo days continue and the Winthrop Ice and Sports Rink is operating.
Stevens Pass opened all of its 10 chairlifts on Christmas.
The area west of Leavenworth has seen 106 inches of snowfall since the resort's opening Nov. 16.
Showshoe tours started Dec. 20.
They will continue through March 8 at North Cascades Basecamp, 255 Lost River Road, Mazama.
Methow Valley Sports Trails Association hosts the tours from 11 a.m. to about 1 p.m. starting at the basecamp.
Omak High School's December student athletes of the month are Baelie Meese, a 5-11 senior on the girls basketball team, and Thomas vanSinten, a 5-11 junior on the boys basketball team.
Meese is averaging 8 points per game and is leading her team in rebounding with 9 per game.
Meese, a 4.0 grade-point average student, is also Associated Student Body executive class officer, a member of the National Honor Society and Key Club.
VanSinten is a leading defensive player for Omak.
"As the coaching staff would say: 'Thomas has straight-up-swag,'" AD Nick Popelier said.
If you got a new calendar for Christmas, you might mark April 26 for the Omak Orchards in Bloom half marathon and 10K runs.
Fit4Life Coalition is planning the inaugural runs starting and ending at Rockwall Cellars, 110 Nicholas Road, Omak.
"The objective is to create an opportunity for us to showcase the beautiful landscape we have here," spokeswoman Nancy Nash-Mendez said. "We want to showcase our agricultural industry and to increase visitors from the outside to our community."
All proceeds from the event will benefit the coalition, which organizes all the walk/runs in the community such as the Jingle Bell Jog, Zombies Fun Run and Autumn Leaf Run, she said.
Registration starts Jan. 1.
The 96th Inland Northwest Trapshoot tournament returns for an eight-week run starting Sunday at the Omak Fish and Game Club, 26 Old Riverside Highway.
The 96th annual competition starts at 10 a.m., said spokesman Dick LaMonte.
Al Camp is the sports editor for The Chronicle. Email him at sports@omakchronicle.com.