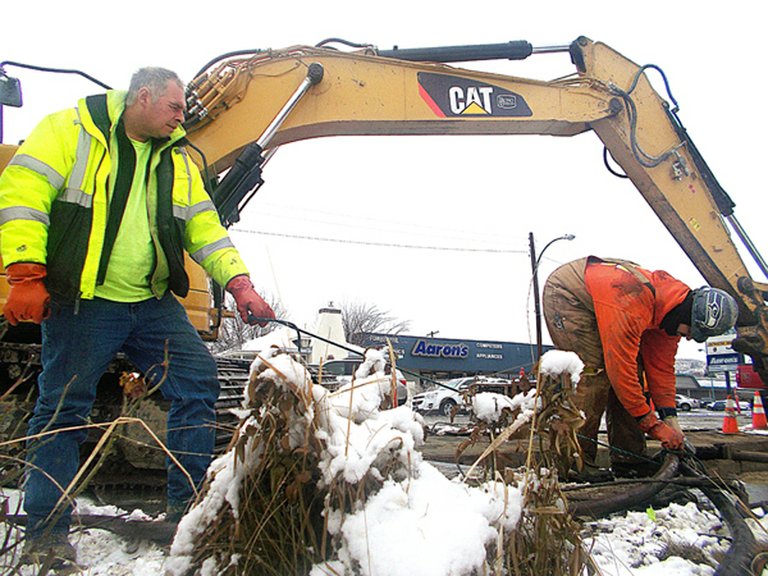 Wednesday, January 29, 2014
/lk
OMAK — The first measurable snow since just before Christmas blanketed the Okanogan Valley on Wednesday morning.
In the mid-valley area, the snow began just before 4 a.m. at the Omak Municipal Airport, according to the National Weather Service. By 6:53 a.m., 0.13 inch of precipitation had fallen – that translated to about 2 inches.
Plows were out on some streets and parking lots. Road crews sanded hills, intersections and city streets as the temperature hovered around 30 degrees.
A winter weather advisory is in effect for the upper Methow Valley, Loup Loup Pass and Conconully, with snow accumulations of 2-4 inches expected in higher elevations.
The Winthrop area got 0.01 inch of precipitation Tuesday afternoon, the Weather Service said.
As of mid-morning Wednesday, Loup Loup Pass (state Highway 20) and Disautel Pass (state Highway 155) both had compact snow and ice on the road and snow was falling, the state Department of Transportation said. Wauconda Pass (state Highway 20) had snow on the road earlier Wednesday, with more falling.
Sherman Pass (state Highway 20 in Ferry County) had compact snow and ice on the road with traction tires advised. Oversized vehicles were prohibited.
The forecast for Omak-Okanogan calls for snow or rain and snow through Thursday under a hazardous weather outlook. Up to an inch of additional snow is anticipated during the day Wednesday.
The Winthrop area is expected to get 1-3 inches Wednesday, with additional snow predicted on Thursday.
In Ferry County, 1-3 inches of snow are predicted during the day Wednesday, with more coming on Thursday.