Monday, June 16, 2014
/lk
CHENEY — Despite being eliminated in the tribal primary election, outgoing Colville Business Council Chairman Michael O. Finley has been named to the Eastern Washington University Board of Trustees.
Finley, who earned his bachelor's and master's degrees from the university, was appointed by Gov. Jay Inslee.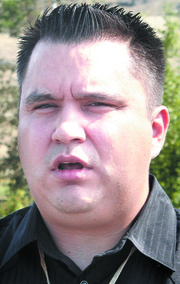 His term begins July 1 and continues through Sept. 30, 2015. Finley will complete the unexpired term of Mark Mays, who died this spring.
Finley, who will leave the council in July after losing his re-election bid, was born and raised in Inchelium. He earned his bachelor of arts in American Indian studies in 2003 and a master of arts in history two years later, the university said.
"I am truly honored being bestowed such a distinguished position," Finley said. "It is a responsibility I accept with humility, and I pledge to foster success with the university and the entire student body, in every discipline, and at every corner of the institution.
"This represents an opportunity to give back to the university that helped me realize my own potential, which in turn led to my prosperity."
Inslee praised Finley's ability to meet the high expectations for such a position.
"Michael Finley will help the EWU Board of Trustees strengthen the university," Inslee said. "He understands the importance of operating in a transparent, responsive and cost-efficient manner that will achieve results and benefit students."
Finley received the Cecil Dryden Alumni Award from Eastern's Department of History in 2011. The award goes to a distinguished graduate in that field. He has co-authored a book on American Indian history and continues to serve on national tribal councils.
Trustees on the board set the strategic direction of the university and help ensure that Eastern is academically and financially accountable and successful.