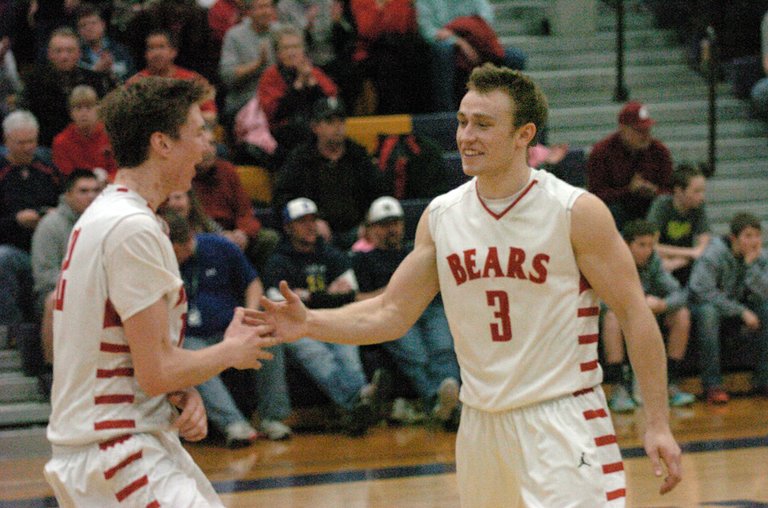 Saturday, March 1, 2014
/lk
Brewster High School will send its boys basketball team to the Final 8 state tournament next week after knocking off Naches Valley, 62-56, last night.
Other Friday night 1A boys games included Toledo beating University Prep, 49-40, Cascade Christian topping Woodland, 49-44, and King's blasting Hoquiam, 83-51.
The Okanogan boys basketball team takes on Vashon island at noon today at Wenatchee High School.
In other Friday night action, the Okanogan girls held off La Salle, 58-49, to advance the Bulldogs to the state tournament.
And the Brewster girls basketball team was eliminated by Mabton, 56-44.
The state is March 7-8 for class 1A schools at the Yakima SunDome.
Other 1A girls games slated to be played today include Cashmere against Eatonville at 2 p.m. at Wenatchee High School.
Also today, Republic takes on Pateros in a 1B showdown at 6 p.m. here. Meanwhile, the Oroville girls play DeSales at 4 p.m. at Richland High School and the Lake Roosevelt boys take on Lind-Ritzville-Sprague at 4 p.m. at Cheney High School.
Other Friday night results:
1B Boys
Pomeroy 57, Yakama Tribal 46
Colton 67, Sunnyside Christian 44
Tulalip Heritage 81, Wilbur-Creston 64
Wellpnit 64, Entiat 48
1B Girls
Tekoa-Oakesdale 50, Sunnyside Christian 44
2B Boys
St. George's 65, Tri-Cities Prep 30
Liberty (Spangle) 60, Kittitas 37
Morton-White Pass 54, La Conner 40
2B Girls
Morton-White Pass 62, Crosspoint Academy 44