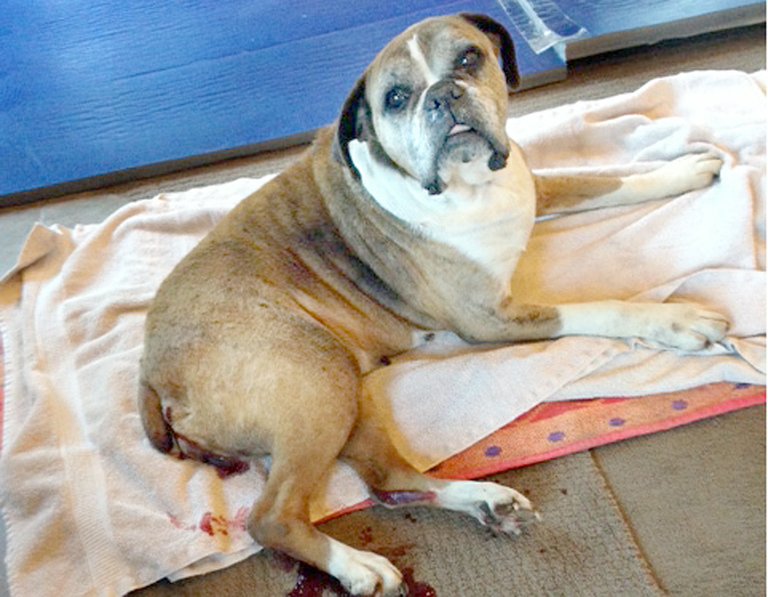 Thursday, March 20, 2014
/lk
TWISP — Two wolves attacked and injured a dog Tuesday on a local family's Poorman Creek property, only about 40 yards from their front door.
Resident Mandy Schmekel said the attack happened just before 8 a.m., after she had dropped off her children at the bus stop. From inside the house, she heard barking and decided to check it out.
On a hill where her children often go sledding, she saw her 10-year-old boxer, Shelbie, surrounded by two wolves.
Thinking at first that the animals might have been dogs, Schmekel said she went outside to yell at them.
"They turned and looked and me and they headed up the hill," she said.
She brought Shelbie and her other dog, a younger blue heeler named Duke, into the house and noticed bleeding coming from Shelbie's rear.
"I was told by (Fish and Wildlife enforcement officer) Cal Treser that it's a common place for wolves to attack," Schmekel said.
Shelbie also suffered three bite marks on her neck, but she survived the attack.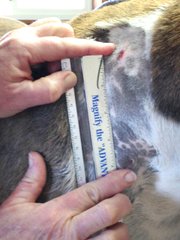 "She is OK. I took her to the vet yesterday morning and they just said she was very lucky," Schmekel said, noting Shelbie is already back home resting with the help of antibiotics and pain medication.
The family's property borders U.S. Forest Service land, but she said this is the first time such an incident has happened.
One puzzling issue is how the dog ended up in that situation.
"I really want people to know that she's not an aggressive dog. She's an old, sweet boxer that doesn't have a tendency to chase after intimidating animals," Schmekel said.
The dog typically only goes up the hill, where she was found with the wolves, when the Schmekel children are there sledding.
"It's just odd that she was even up there. I don't know how they got her there," Schmekel said. "I honestly feel that if I hadn't gone and checked, we would have lost her."
Stat Department of Fish and Wildlife Sgt. Dan Christensen noted this is the third "Shelby" involved in a wolf or cougar attack this winter in the Methow Valley alone.
Eleven-year-old Shelby White of Twisp made international news last month when she shot and killed a cougar on her family's property that had been following her older brother.
And on March 3, a wolf-husky mix dog named Shelby was attacked by a cougar outside the home of her owner, John Stevie of Carlton. The attack happened about a year after Shelby was injured by a gray wolf.
Fish and Wildlife officers were able to track the cougar and euthanize it, Christensen said.
Later in the same week, a German Shepherd was killed by a cougar on Twisp River Road. That cougar, a healthy male, was also found and euthanized.
In the wake of yesterday's attack, Christensen said he has asked a wolf research biologist to find out more about the wolves' condition, from age and sex to their overall health.
Meanwhile, he said the Fish and Wildlife will continue to monitor the area.
"We will take whatever measures necessary to protect the public," he said.
Christensen said the public should report wolf or cougar sightings to the Wildcom dispatch center by calling 877-933-9847.
Attacks in progress should be reported via 911.