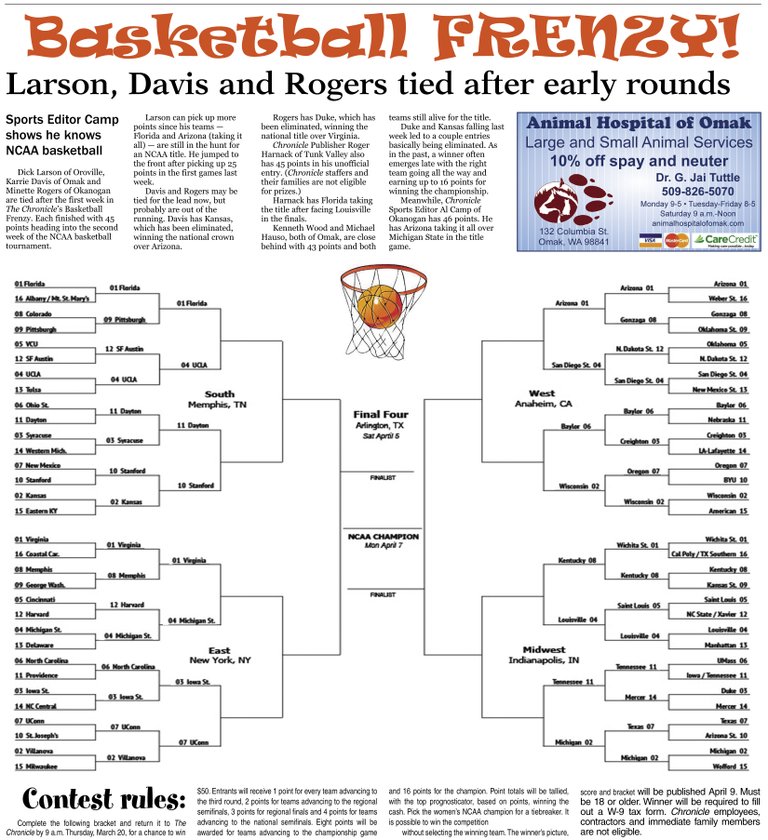 Tuesday, March 25, 2014
/lk
OMAK — Dick Larson of Oroville, Karrie Davis of Omak and Minette Rogers of Okanogan are tied after the first week in The Chronicle's Basketball Frenzy. Each finished with 45 points heading into the second week of the NCAA basketball tournament.
Larson can pick up more points since his teams — Florida and Arizona (taking it all) — are still in the hunt for an NCAA title. He jumped to the front after picking up 25 points in the first games last week.
Davis and Rogers may be tied for the lead now, but probably are out of the running. Davis has Kansas, which has been eliminated, winning the national crown over Arizona.
Rogers has Duke, which has been eliminated, winning the national title over Virginia.
Chronicle Publisher Roger Harnack of Tunk Valley also has 45 points in his unofficial entry. (Chronicle staffers and their families are not eligible for prizes.)
Harnack has Florida taking the title after facing Louisville in the finals.
Kenneth Wood and Michael Hauso, both of Omak, are close behind with 43 points and both teams still alive for the title.
Duke and Kansas falling last week led to a couple entries basically being eliminated. As in the past, a winner often emerges late with the right team going all the way and earning up to 16 points for winning the championship.
Meanwhile, Chronicle Sports Editor Al Camp of Okanogan has 46 points. He has Arizona taking it all over Michigan State in the title game.