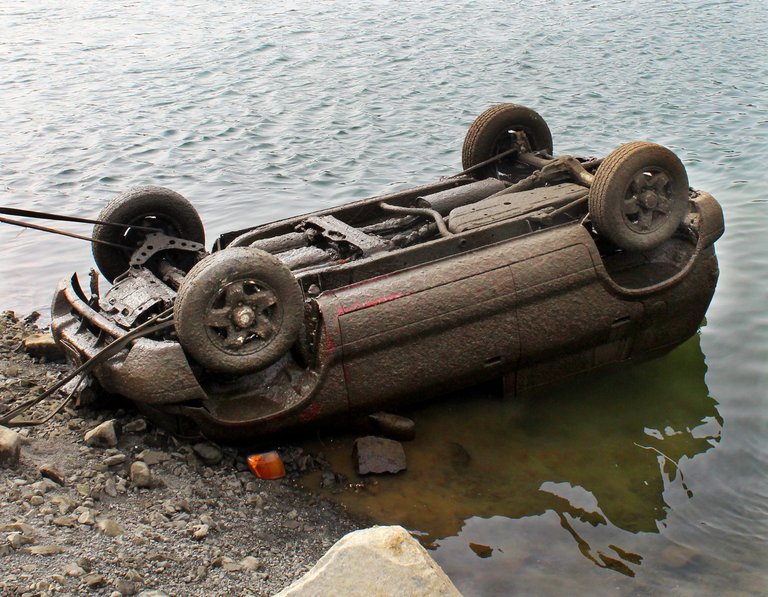 Wednesday, March 26, 2014
/lk
ROCK ISLAND — A vehicle reported stolen from Wenatchee in 2002 has been recovered from its muddy, watery grave below Rock Island Dam.
The 2000 Kia Sportage was pulled from the riverbed below the dam Monday afternoon, Douglas County Sheriff Harvey Gjesdal confirmed Wednesday.
The vehicle was spotted on the exposed riverbed in the wake of the drawdown of the Columbia River due to a crack in Wanapum Dam.
The crack was found Feb. 27.
"The vehicle was located upside down below Rock Island Dam by a Chelan County PUD employee," Gjesdal said, noting it was reported about 1:34 p.m. Monday. "The vehicle was removed by a tow truck."
Gjesdal said deputies do not yet have a suspect in the vehicle theft.
The Kia isn't the only discovery on the riverbed since the drawdown. A Jet Ski, sailboat and two sets of human remains have also been uncovered.
Authorities have closed the Columbia River, the shorline and access amenities between Wanapum and Rock Island dams, citing public safety concerns.
Grant County Public Utility District, which operates Wanapum Dam, located downstream from the town of Vantage, have yet to approve a plan to repair the crack and return the water to its normal level.