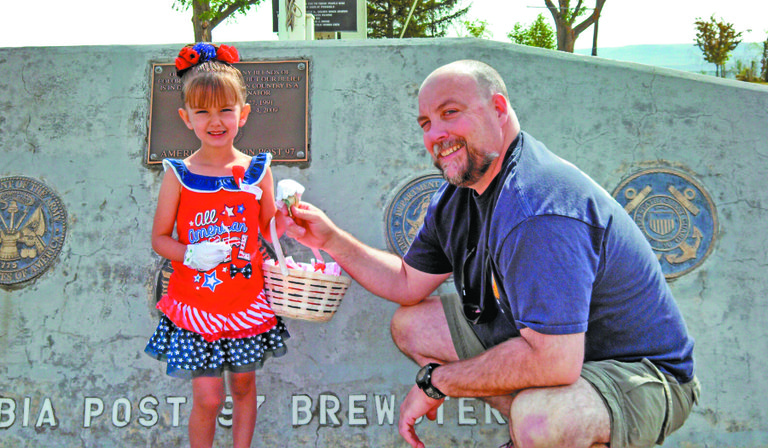 Wednesday, May 21, 2014
/lk
Several Memorial Day services are planned in and near Okanogan County this weekend, starting with Poppy Days under way now in the Brewster area.
American Legion Columbia Post 97 designates a youngster each year to serve as the poppy girl, standing outside local businesses wearing red, white and blue and selling tiny paper poppies to honor veterans.
This year's poppy girl is 5-year-old Shaylee Todd of Okanogan.
The poppy program began in 1921 and is known nationwide. The poppies are made by veterans. Donations from each sale go toward helping disabled and hospitalized veterans.
On Monday, the Legion will host honor guard ceremonies at 9:30 a.m. at the Bridge Street bridge, where a helicopter drops a wreath into the water; at 10 a.m. at Packwood Cemetery, located about nine miles south of Brewster on Dyer Hill; at 11 a.m. at Monse Cemetery; and at 11:30 a.m. at Brewster Cemetery on Locust Way.
The honor guard will place wreaths in front of the memorial at noon next to the Legion Hall, 102 Third St.
At 6 p.m., a flag folding ceremony and potluck will take place at the hall.
Other observances planned around the area:
---
---
Grand Coulee
The annual Isle of Flags ceremony will kick off at 11 a.m. at Spring Canyon Cemetery on Spring Canyon Campground Road.
More than 500 "casket-sized" flags will be displayed throughout the weekend in honor of veterans who have died, American Legion Post 157 member Ben Alling said.
"We'll be dedicating another 13 deceased veterans' flags that have died in the past year or so," he said. "It's quite a display. We light it up at night."
The flags will be set up at 1 p.m. Saturday and taken down at 3 p.m. Monday, weather permitting. The community is invited to help.
The Boy Scouts will be on hand for a flag-folding ceremony, along with readings of what every fold means. The ceremony will wrap with the firing squad and a rendition of "Taps."
The Legion will also host breakfast for veterans from 7-11 a.m. Saturday and 7-10 a.m. Monday at Electric City Veterans Hall, 31 Coulee Blvd.
---
---
Methow Valley
American Legion Post 143 in Methow Valley will place flags on veterans' graves at Beaver Creek Cemetery at 9 a.m. Friday, Post Commander Tristan Gilbert said.
The cemetery is located off state Highway 153 and Lower Beaver Creek Road.
Legion members will also set up flags around town Monday.
---
---
Republic
• The Vietnam Veteran Wives plans a veterans tribute and fundraiser from noon to 3 p.m. Saturday at the Ferry County Mountain Veterans Center, 12 Trout Creek Road.
Performers include the Saw Shop Boys, Sandie, Linette Richie and Stan Timentwa.
The Colville tribal honor guard will be present and regional service officer Jimmy Roth will speak.
• Leo K. McCormack Post No. 80 of the American Legion plans a rifle salute at 9 a.m. Monday at the Curlew bridge on Ferry Street off state Highway 21. A wreath will be thrown into the Kettle River.
At 11 a.m., the Legion will do a rifle salute and lay a wreath at the flagpole at the Republic Cemetery, 111 Klondike Road.
---
---
Tonasket
Members of the U.S. Armed Forces Legacy will host three ceremonies, starting at 10 a.m. Monday.
The first will be at the bridge, the second at the cemetery and the third at the Legacy, U.S. Highway 97 on the south end of town. The cemetery is west of the Okanogan River more than a mile north of town on county Highway 7.