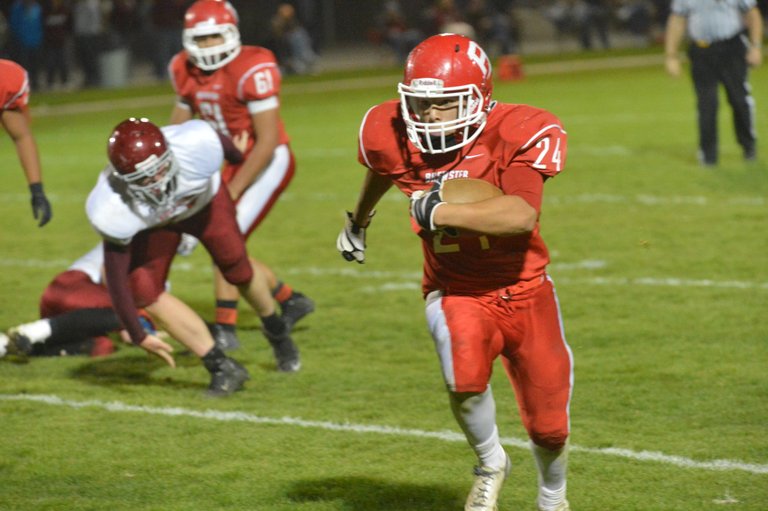 Saturday, October 11, 2014
/lk
BREWSTER — Brewster used a strong passing game and took advantage of No. 6 state-ranked Okanogan miscues to win a non-league game 30-21 during the Bears homecoming Friday.
The game between unbeaten teams was scheduled after Liberty Bell forfeited to Okanogan and Bridgeport forfeited to Brewster. Liberty Bell and Bridgeport did not have enough eligible players.
Photos and story from Okanogan at Brewster will be in The Chronicle's Wednesday edition.
Friday week 6 scores:
Adna 41, Winlock 7
Archbishop Murphy 56, Granite Falls 7
Arlington 28, Stanwood 0
Auburn Mountainview 17, Lakes 0
Ballard 38, Nathan Hale 28
Bellarmine Prep 35, South Kitsap 10
Bellevue 38, Juanita 6
Black Hills 27, Port Angeles 14
Blaine 31, Anacortes 19
Bonney Lake 38, Auburn Riverside 7
Brewster 30, Okanogan 21
Brewster def. Bridgeport, forfeit
Capital 34, Wilson 21
Cascade (Leavenworth) 54, Omak 14
Cashmere 53, Naches Valley 12
Castle Rock 14, Seton Catholic 6
Cedarcrest 57, Sultan 9
Central Kitsap 42, Shelton 8
Charles Wright Academy 58, Vashon Island 22
Chelan 27, Wahluke 8
Cheney 48, Moscow, Idaho 6
Chiawana 62, Hanford 6
Clarkston 41, Pullman 20
Cleveland 50, West Seattle 6
Colfax 54, Kettle Falls 7
Columbia River 47, Fort Vancouver 12
Colville 28, Freeman 7
Concrete 28, LaConner 21
Curtis 50, Rogers (Puyallup) 14
Cusick 70, Selkirk 30
Darrington 16, Manson 7
Davenport 57, Tekoa/Rosalia 32
Davis 33, Pendleton, Ore. 3
Eastlake 41, Mount Si 16
Eatonville 51, Rochester 14
Edmonds-Woodway 66, Shorecrest 7
Ellensburg 41, Wapato 0
Elma 62, Forks 13
Emerald Ridge 41, Bethel 21
Entiat 62, Wellpinit 52
Ferris 43, Shadle Park 34
Foss 29, Mount Tahoma 20
Foster 39, Highline 6
Franklin Pierce 38, Fife 35
Garfield-Palouse 68, St. John-Endicott 26
Gonzaga Prep 54, University 19
Graham-Kapowsin 17, Skyline 14
Hockinson 34, Ridgefield 0
Ilwaco 44, Ocosta 0
Inchelium 46, Curlew 14
Ingraham 28, Chief Sealth 27
Kamiak 47, Jackson 28
Kelso 20, W. F. West 19
Kentlake 56, Kentridge 27
King's 34, South Whidbey 16
Kiona-Benton 27, Connell 14
Kittitas 40, Soap Lake-Wilson Creek 14
La Salle 36, Cle Elum/Roslyn 9
LaCenter 49, Columbia (White Salmon) 21
Lake Stevens 63, Monroe 14
Lake Washington 28, Shorewood 21
Lakeside (Nine Mile Falls) 17, Deer Park 16
Lakeside (Seattle) 24, Seattle Prep 21
Lakewood 32, Cedar Park Christian (Bothell) 22
Liberty Christian 72, LaCrosse/Washtucna/Kahlotus 0
Lincoln 69, North Thurston 27
Lind-Ritzville/Sprague 14, Liberty (Spangle) 0
Lynden 23, Burlington-Edison 21
Mabton 32, Lake Roosevelt 0
Mariner 20, Mount Vernon 10
Marysville-Pilchuck 56, Everett 14
Meadowdale 41, Lynnwood 7
Medical Lake 39, Newport 12
Mercer Island 46, Interlake 13
Meridian 43, Nooksack Valley 15
Montesano 20, Hoquiam 19
Morton/White Pass 14, Mossyrock 6
Moses Lake 42, Sunnyside 13
Mount Baker 31, Lynden Christian 20
Mountlake Terrace 33, Glacier Peak 32
Mt. Spokane 17, Mead 14
Napavine 36, Toledo 6
Naselle 62, Mary Knight 12
Neah Bay 56, Tulalip Heritage 12
Newport 42, Issaquah 14
North Beach 75, Chief Leschi 0
North Central 49, Central Valley 13
North Kitsap 48, Bremerton 24
Northwest Christian (Colbert) 35, Wilbur-Creston 7
O'Dea 19, Bainbridge 0
Oak Harbor 47, Marysville-Getchell 25
Odessa-Harrington 62, Columbia (Hunters) 22
Okanogan def. Liberty Bell, forfeit
Olympia 34, Stadium 6
Olympic 28, Kingston 7
Onalaska 56, Wahkiakum 21
Orofino, Idaho 27, Asotin 0
Orting 35, Steilacoom 34
Othello 38, Grandview 14
Pateros 60, Almira/Coulee-Hartline 44
Pe Ell/Willapa Valley 34, Toutle Lake 0
Peninsula 42, Enumclaw 13
Port Townsend 56, Coupeville 20
Prosser 52, Toppenish 0
Quincy 34, East Valley (Yakima) 29
R.A. Long 26, Prairie 7
Rainier 48, Tacoma Baptist 0
Raymond 41, South Bend 0
Reardan 35, Springdale 6
Renton 21, Hazen 9
Republic 72, Northport 12
Richland 44, Kennewick 7
River Ridge 53, Washington 8
Riverside 34, Chewelah 6
Roosevelt 17, Garfield 7
Royal 58, River View 30
Sammamish 35, Liberty 34
Sedro-Woolley 49, Sehome 9
Selah 23, Ephrata 14
Sequim 26, North Mason 20
Skyview 31, Mountain View 0
Snohomish 34, Cascade (Everett) 2
Squalicum 24, Ferndale 17
Stevenson 30, Kalama 14
Tenino 54, Aberdeen 43
Todd Beamer 38, Thomas Jefferson 0
Tonasket 46, Oroville 20
Touchet 38, Pomeroy 28
Tri-Cities Prep 42, Enterprise, Ore. 0
Tumwater 61, Centralia 7
Union 42, Heritage 14
Waitsburg-Prescott 26, Columbia (Burbank) 23
Walla Walla 28, Southridge 7
Washougal 48, Hudson's Bay 6
Wenatchee 43, Eastmont 19
West Valley (Spokane) 17, East Valley (Spokane) 15
West Valley (Yakima) 35, Eisenhower 7
White River 40, Clover Park 8
White Swan 26, Warden 13
Woodinville 35, Inglemoor 13
Woodland 56, Mark Morris 21
Yelm 50, Evergreen (Vancouver) 40
Zillah 49, Goldendale 12