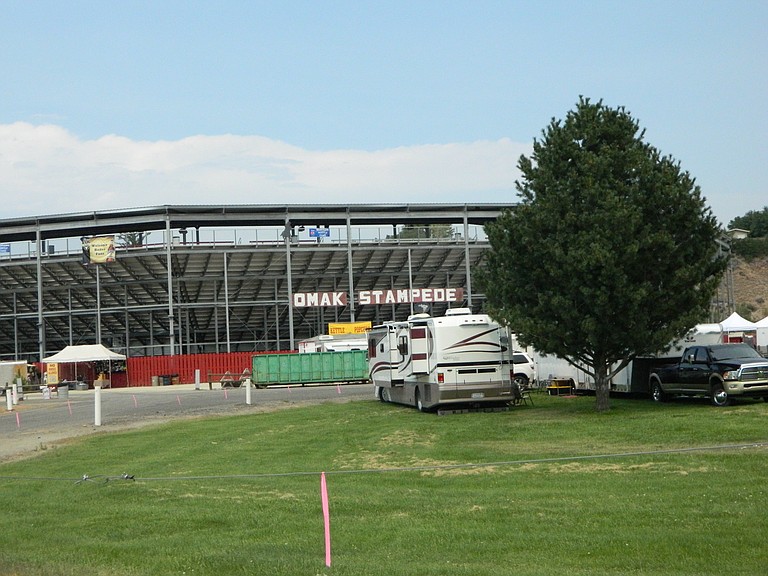 Thursday, August 13, 2015
/lk
OMAK — The 82nd Omak Stampede and the 80th World-Famous Suicide Race start today in East Side Park.
Along with the rodeo and race, the weekend brings the Omak Stampede Indian Encampment, ride-in, grand parade, Omak Western and Native Art Show and other Western fun.
Top cowboys and cowgirls — more than 400 of them — are signed up to compete at the event, set for Thursday through Sunday.
Rodeo show times are 7 p.m. Thursday, Friday and Saturday, and 2 p.m. Sunday in the Omak Stampede Arena, 421 Stampede Drive E.
Tickets are available from the Stampede ticket office next to the arena in East Side Park, online or by phone.
Prices vary, depending on the performance and section. Special prices are offered on Thursday for family night and on Sunday, which is Patriot Day in support of U.S. troops. Veterans get in free that day with military ID.
Fans can expect a full range of Professional Rodeo Cowboys Association events and Women's Professional Rodeo Association barrel racing. A running of the World-Famous Suicide Race comes after each rodeo performance.
Activities began yesterday with opening of the Davis Shows carnival at the west end of East Side Park, in which the rodeo arena also is located.
The Stampde committee also hosted the annual Kick-off Party in the beer garden of the arena.
Rodeo President George Dunckel and Mayor Cindy Gagne thanked sponsors, volunteers and the community for their support.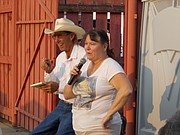 A ride-in is under way this morning.
The encampment gets under way this evening with campers' night, as does the Omak Western and Native Art Show at The Courtyard Downtown, 28 N. Main St.
Preceding the Thursday night rodeo is the annual Wrangler Kids' Night, starting at 4 p.m. in the arena. Youngsters can compete in a variety of games and a dress-up contest; prizes will be given.
Thursday is family night at the rodeo.
Slack competition in timed events will be at 9 a.m. Friday. Admission is free.
Slack is offered when there are more contestants signed up for a timed event than can be run during the regular rodeo performances. The extra competitive time also allows contestants to make a showing at more than one rodeo per weekend.
Friday is "Tough Enough to Wear Pink" night, with $1 from each rodeo ticket going to the campaign to raise awareness and funds for breast cancer research and detection. Stampede officials urge rodeo participants and fans to wear pink.
On Sunday, red, white and blue clothing is encouraged by Stampede officials.
Each rodeo performance begins with the Parade of Flags, a drill involving horses and riders carrying flags sponsored by area businesses, clubs and agencies.
Arena runs by royalty follow, with Stampede Queen Menze Pickering of Oroville reigning over the event.
The first competitive event today, Friday and Saturday will be ranch bronc riding, with competitors using stock saddles. The event is sanctioned by the Western States Ranch Rodeo Association.
Assisting the cowboys will be bullfighters Erick Schwindt and Rowdy Barry, and clown and barrelman J.J. Harrison, who grew up in Okanogan. The specialty act is trick rider Kyzer Stoddard.
The announcer will be Steve Kenyon. Stock contractors are Big Bend, Ritzville, and Flying 5, Pomeroy.
Suicide Race fans wearing booster buttons, available on the grounds and in local businesses, will be admitted to special viewing areas on the hill and the dike in the park. A rodeo ticket stub from the performance preceding each race also grants admission to the dike area.
Viewing also is available from many areas of the arena for rodeo ticket holders.
Concessions will operate all weekend on the grounds. Vendors offer a variety of food and beverages, cowboy hats and other souvenirs.
Other weekend events:
Grand parade, 10 a.m. Sunday, downtown.
Christians-in-Action stage ministry, all weekend, Triangle Park between the rodeo arena and carnival.
Post-rodeo dances Friday and Saturday nights, with separate admission, in the arena dance area. The Night Riders will perform.
Okanogan Valley Farmers Market in its customary location, Legion Park on North Second Avenue in Okanogan, from 9 a.m. to 1 p.m. Saturday.
Fees are charged for parking on the rodeo grounds, with day and weekend passes available. Flaggers will be on hand to help direct traffic at the end of each rodeo performance.
Separate parking fees apply in the encampment area.