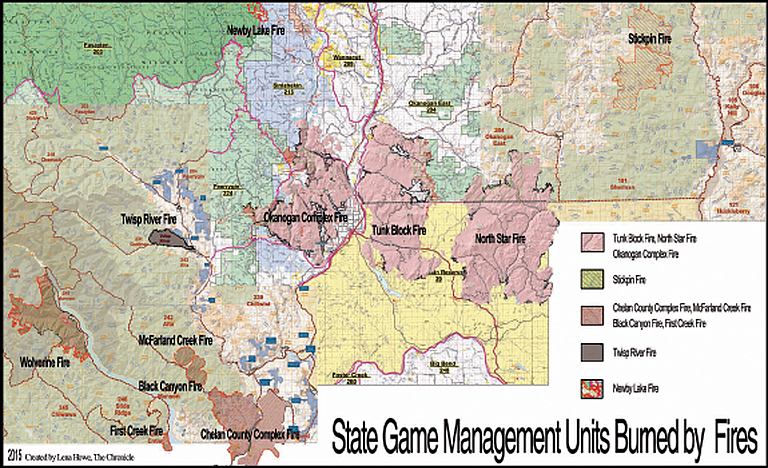 Friday, October 16, 2015
/lk
OKANOGAN — Some of the most popular hunting in Washington gets underway Saturday when modern rifle deer and waterfowl seasons open across the state.
For those wanting to research a place to hunt deer, where Game Management Units burned (or did not burn), click on the Okanogan and Ferry county map at left.
"Strong deer numbers are forecast in many areas of Washington, and hunters have been scouting and planning their hunt for weeks now," said Mick Cope, state Department of Fish and Wildlife game manager.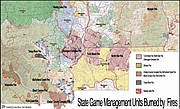 WDFW has created a hunting prospects webpage (http://wdfw.wa.gov/hunting/prospects/) with the best local information available on what upcoming seasons may hold, said Cope. The reports are written by WDFW district biologists and are organized by game species.
"Big game hunts also look promising this fall," Cope said. "Hunters had a pretty good season last year and, with the mild winter, that should be the case again this year."
Duck, coot, and snipe seasons also open Saturday.
In addition, goose seasons open in all goose management areas except for Southwest Washington's Goose Management Area 2A (Wahkiakum, Cowlitz and Clark counties). The exception is the brant season, which will open on selected dates in January.
"We are expecting another great year," said state DFW waterfowl manager Don Kraege. "A record number of ducks - about 49.5 million - were present on northern breeding grounds this spring, which bodes well for waterfowl enthusiasts so long as weather cooperates."
Migratory waterfowl are expected to make another strong showing this year, Cope said. With an increase in breeding populations of migratory birds, waterfowl hunters should expect great hunting this year, depending on weather.
Information on access to more than 1 million acres of private land can be found at the "Private Lands Hunting Access" page (http://wdfw.wa.gov/hunting/hunting_access/private_lands/). Hunters can also find information on public or private lands open to hunting by visiting WDFW's interactive mapping program GoHunt (http://apps.wdfw.wa.gov/gohunt/).
Hunters using modern firearms – or in areas open to hunting with modern firearms – are reminded to wear hunter orange clothing as specified by state law. While that requirement does not apply to non-hunters, Cope suggests hikers, mushroom pickers and others in areas open to hunting wear bright, colorful clothing to maximize their visibility.
Meanwhile, nearly 1.2 million fall Chinook, including 735,000 upriver brights, are expected to return to the Columbia this year. Both would be the second largest runs on record since at least 1938.
Coho salmon also are moving in increasing numbers into the lower Columbia River and many rivers flowing into Puget Sound.