Thursday, September 17, 2015
/lk
TONASKET – Mayor Patrick Plumb is calling for change with the city's fire alarm.
He proposed to the City Council the possibility of only sounding the fire hall alarm in the event of a citywide emergency. He said the alarm currently sounds off frequently and often times when the Fire Department is called to a medial lift assist.
"Although it's quite fun to hear, I don't see a lot of value in it," he said. "And Republic has it and only uses it for city emergencies. They're doing that same thing."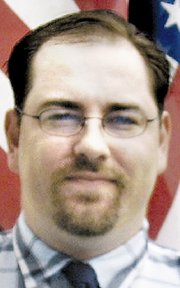 The sirens in Republic have been silent since early in the North Star Complex fire when Ferry County Sheriff Ray Maycumber announced that sirens would only be used to alert residents to evacuate immediately. As soon as evacuation levels drop in the area, Maycumber said the practice of running the siren for fire calls would return. Even if volunteers have an issue with a cell phone or pager, they are likely to hear the siren from even miles away, according to Maycumber.

"I don't care at 3 in the morning if my neighbor needs to get a lift assist. I really think it's an unnecessary jolt," he said. "The whole thing's overkill. The pagers work great. They have radios."
He said he would approach county commissioners for their approval.
Although no homes, businesses or structures within the city were lost during the Okanogan Complex fire last month, Plumb said the city is preparing for future emergencies.
"It's been amazing the type of response and communications I got last month," Plumb said during a meeting last Tuesday night. "The donations to our area have been tremendous. It's just really neat how people have reached out."
Plumb said once the Level 3 (highest) evacuation order was issued the community instantly came together.
"If the city of Tonasket was in imminent danger, I feel that for 15 to 20 miles around, our neighbors would help us," he said. "Oroville was not affected by fire, but Hughes (Department Store) opened at 12:30 at night for the hospital shelter. North Okanogan County is strong for city needs."
Plumb said now that the smoke is clearing the city is beginning to take precautionary steps for future emergencies and learning for this summer's fire.
Plumb also reported he is in the process of organizing a North Okanogan County (Oroville, Tonasket-area) Long Term Recovery group.
"The fire came close to our town," Councilman Scott Olson said. "If we don't do something it will come again."
Olson suggested a citywide cleanup effort to remove sagebrush around the water towers and near the schools "before it becomes an inferno."
City Planner Kurt Danison said there might be some Federal Emergency Management Agency funding available for pre-disaster mitigation.
"FEMA does have some mitigation programs," he said. "I think Pateros said they had over $800,000 spent in fire recovery. So far they've been reimbursed for about $400,000 of it. "
"I think part of that going to be a lot of conversation in the Legislature and else where," he said. "Ideally, the whole issue will be brought (up). It would be really nice to do some fuel reduction."
"For the cost, it would be to do it, the value to our city would be high," Olson said.
Agreeing with the notion, Plumb said the Bonaparte Creek area could become a problem with spring run-off and "nobody's even considered mitigation for that mess."
Plumb said he would like to see more hotels and places within the city for area residents to utilize during emergencies.
"A hotel, that's one thing we're missing," Plumb said. "I would really like to see more economic development north of Wal-Mart (in Omak)."
The council agreed to allow displaced residents t0 park RVs in designated spaces throughout the city during the winter.
"Even without fires, housing is an issue here," Danison said.
"We need some sort of apartment complex or something," Plumb echoed. "I'm serious. I just want more opportunity for people to be here; maybe we can get some light industry type of things.
In other business at the meeting, the council:
-Approved Oct. 3 for the citywide fall clean up day. Plumb suggested forming a "grass-roots" effort to volunteer to clean up debris in the Bonaparte Creek area before potential flooding hits.
-Approved a pay raise from $24 per hour to $24.95 for Interim Police Chief Darren Curtis.
-Approved a 62-cent pay raise for acting police Sgt. Preston Ray. His hourly rate will be $21.43.
-Approved a bid from Steve's Tree Service to remove a tree and debris from the Locust Street area for $1,404. The bid was chosen over one in the amount of $1,800 from Lorz and Lorz.
-Postponed the next council meeting to 7 p.m. Sept. 29 in City Hall, 209 S. Whitcomb Ave.