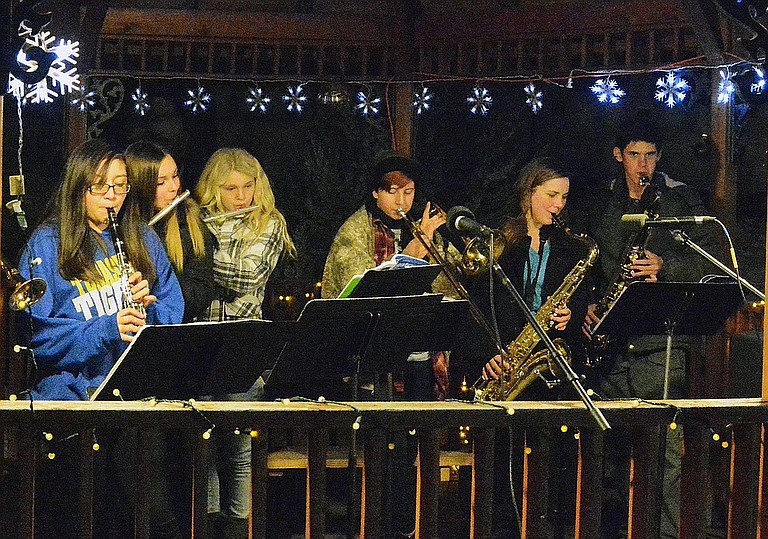 Thursday, December 1, 2016
/lk
TONASKET- Though the forecast shows no snow expected this weekend, that's not stopping the Tonasket Chamber of Commerce from putting on the annual Winterfest this weekend.
Horseshoe Brew will serve espresso behind the Tonasket Visitor and Business Resource Center beginning at noon on Friday. At 4 p.m. hot hard cider will be served to those age 21 and older.
A parade begins at 5:30 p.m., with staging and lineup slated to begin around 5:15 p.m. at Western Avenue and Fifth Street. The theme is "Light up the Town." There is no entry fee.
Businesses, all-terrain vehicles and local residents are encouraged to participate. Prizes will be awarded.
Following the parade, caroling and music are planned in Founders Day Park. Santa will arrive by fire truck at 6 p.m. and the city tree with be lit.
"There's a whole lot of stuff going on," chamber President Marylou Kriner said. "I just want people to come and have a good time."
North Valley Hospital will host photos with Santa in Founders Day Park. There is a charge for pictures.
Other activities throughout the evening include a chili cook-off at the Tonasket Visitor and Business Resource Center, fire truck rides through town, food and gift vendors, roasted chestnuts and childrenís activities.
Other events include:
A Scholastic Book Fair is planned at Tonasket Elementary School, 35 E. Highway 20. The fair will run from 8 a.m. to 4 p.m. Thursday, Dec 1; 6-8 p.m. Friday, Dec. 2, and 10 a.m. to 4 p.m. Saturday, Dec. 4.
The public library will have its annual book sale at library, next to city hall at 209 S. Whitcomb Ave. The book sale runs from 10 a.m. to 6 p.m. Thursday and 10 a.m. to 2 p.m. Friday.
The Tonasket Co-Op will serve free cookies on Friday.
Several holiday bazaars are planned. See story in Community section.