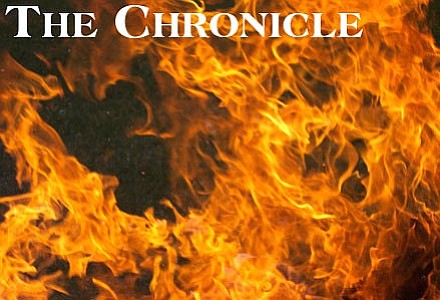 Wednesday, July 27, 2016
/lk
OKANOGAN - Another round of thunderstorms is expected to hit the region this afternoon and early evening, prompting the Spokane office of the National Weather Service to issue a hazardous weather outlook.
"Thunderstorms may produce brief, heavy rain, small hail, gusty winds and lightning," meteorologists said. "Locally, heavy downpours may produce localized flooding, especially near burn scars."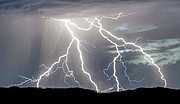 Lightning, thunder and showers blanketed much of Okanogan County on Monday evening and last night, resulting in more than a dozen wildfire reports across the area.
The largest fire reported was in the French Creek area. The Northeast Washington Interagency Communications Center said the blaze has burned 15 acres and resources are on scene.
U.S. Forest Service crews assisted the state Department of Natural Resources.
Forest Service also responded today to two small lightning-caused fires in the Methow Valley Ranger District.
A fire line has been constructed around the Mission Creek Fire, located two miles southeast of Black Pine Lake. Today, crews continue mopping up inside the fire line on the 0.1-acre fire.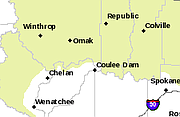 Four smokejumpers who responded to a small, one-third acre fire in the Reynolds Creek area on Sunday continued staffing the fire Tuesday. The fire is located in the Lake Chelan-Sawtooth Wilderness Area two miles south of Poplar Flat Campground up Twisp River Road, approximately 20 miles west of Twisp.
Omak and Okanogan firefighters were called Tuesday evening to a trio of fires, one at HUD housing north of Omak on Omak-Riverside Eastside Road, another at milepost 67 on Highway 155 and a third in the Salmon Creek-Spring Coulee area.
Omak Chief Kevin Bowling said nothing was found north of town, the Bureau of Indian Affairs handled the one on Highway 155 and the DNR responded to the Salmon Creek area.
The Highway 155 fire burned a small area and knocked out electricity for a time. A tree fell onto the road.
Other reported fires include:
Halillah Rock - off Havillah Road; 0.04 acre; controlled.
Swamp Creek - near Gamble Mill; 2 acres; staffed.
Paradise Hill Road - no acreage reported.
Salmon Creek - no acreage reported.
South Boulder Creek - no acreage reported; controlled.
Pickens Mountain, South Pickens Mountain - no acreage reported; controlled.
North Whitestone Mountain - no acreage reported; controlled.
Sylvester Hill-Whitestone Mountain - 0.01 acre; controlled
Duncan Ridge - no acreage reported.
Kettle Trailer - Old Kettle Falls; no acreage reported; controlled
Johnson Road - Almira; 80 acres.
Reed Creek - 0.1 acre.
Angolan Spot - Anglin; 0.01 acre; controlled.
McLaughlin Canyon - no acreage reported.
In addition, the storm front caused a washout on Ramsey Creek Road No. 5009100. A one-mile segment of the road is blocked with mud and rocks, the Forest Service said.
Debris stretches from just past the shooting range to about a half-mile south of Sullivan Pond. Forest Service crews will work on clearing the road, but it will remain closed until work is completed.
The Forest Service warned that many roads are muddy because of recent rains.