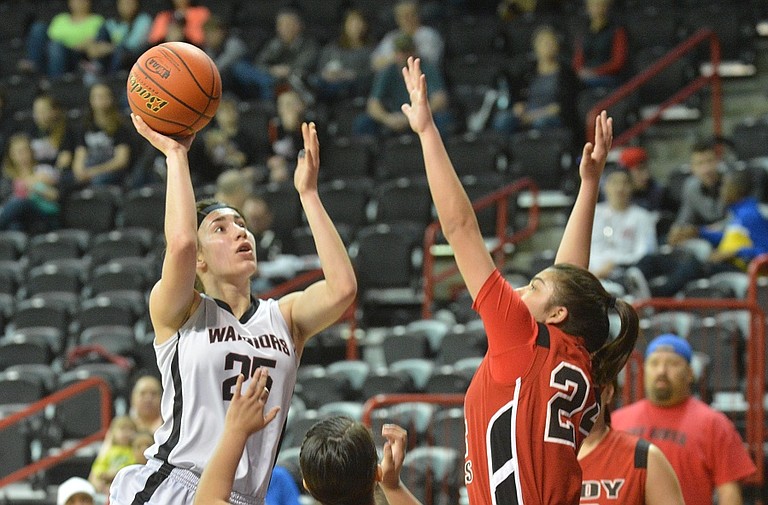 Friday, March 4, 2016
/lk
SPRAGUE — The Almira/Coulee-Hartline girls' basketball team built an early lead and cruised to a 64-43 victory over Tulalip Heritage in a loser-out state 1B tournament game Friday.
The Warriors (22-4) will play at 9:30 a.m. Saturday for fourth- and sixth-place against the winner of the Taholah and Mount Vernon Christian game to be played later Friday.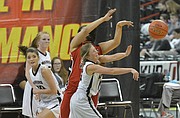 Seven-time state champion Colton knocked ACH into the consolation bracket with a 68-46 win in the first-round of state Thursday.
To stay at the three-day tournament, ACH needed to win Friday.
An inbounds steal by Gabi Isaak led to a bucket and a free throw for a 15-6 lead with 1:40 left in the first quarter
Brenna Oliver then hit a trey as the buzzer sounded for an 18-8 lead after the first period.
Caitlin O'Neil got a buck inside and Tiffany Boutain hit for two for a 22-20 lead that remained about the same the rest of the game.
The Hawks did get the lead down to five points a couple times but ACH responded with buckets each time to get the lead back out to 8 or more points.
But when the final buzzer sounded, ACH had five players in double scoring figures – starters Gabi Isaak (16), Tiffany Boutain (13), Brenna Oliver (12) and Berlyn Hunt (11) and off the bench Caitlin O'Neil (10).
ACH turned the ball over 10 times to 15 for Tulalip and won the boards 20-15.
ACH vs. Tulalip Heritage (64) – Boutain 13, B. Oliver 12, Hunt 11, Isaak 16, K. Oliver 0, Loomis 0, Dingman 0, Rushton 2, Bresee 0, O'Neil 10. Rebounds: K. Oliver 5, Boutain 4, Isaak 4. Assists: Hunt 6, B. Oliver 5, Boutain 3. Steals: Boutain 5, Hunt 2.
ACH vs. Colton (46) – Boutain 2, B. Oliver 18, Hunt 8, Isaak 9, K. Oliver 5, Dingman 0, Rushton 0, Bresee 0, O'Neil 4. Rebounds: Isaak 7, B. Oliver 4, Hunt 4, K. Oliver 4. Assists: Boutain 4, K. Oliver 3. Blocks: K. Oliver 1.