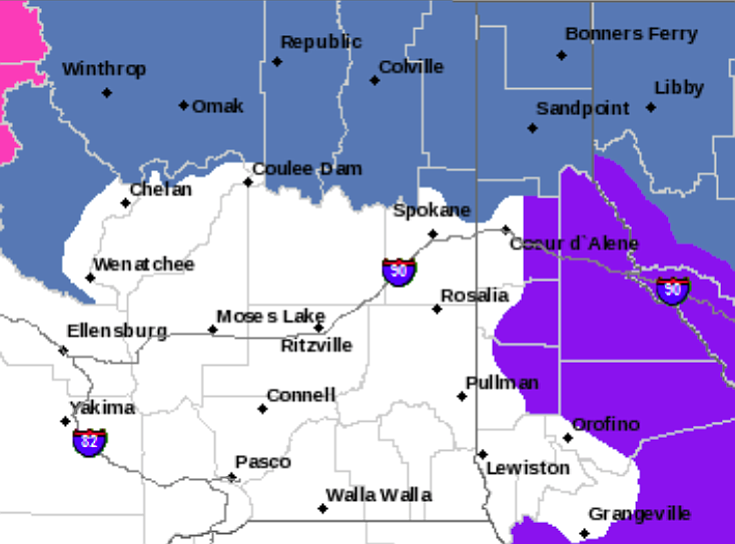 Wednesday, November 23, 2016
/lk
OKANOGAN - If your Thanksgiving plans call for traveling over mountain passes this week, you may want to allow some extra time to reach your destination.
"Motorists should be prepared for winter driving conditions, especially if they plan travel across mountain passes or in higher elevation areas such as the Palouse or the mountains of northeast Washington," said state Department of Transportation spokesman Al Gilson on Wednesday morning.
As of Wednesday afternoon, Wauconda, Stevens, Snoqualmie, Loup Loup, Disautel and Blewett passes were reported to be bare and wet with slush in some places. There were no restriction in place.
Meanwhile, transportation officials said it was snowing on Sherman Pass with traction tires advised.
Regardless of whether your Thanksgiving travels take you out of the area, the Washington State Patrol is reminding all motorists to take precautions when traveling this weekend.
"Buckle up, drive for the conditions and never drink and drive," said patrol spokesman Trooper Brian Moore. "Arrange for a sober ride prior to arriving at your Thanksgiving dinner."
Moore said those who see a driver who might be impaired or driving aggressively should call 911 with the vehicle's description, direction of travel and license plate number if possible.
"Winter weather is expected on the mountain passes," Moore said. "Drivers are reminded to have good snow tires and a properly fitted set of chains before heading over the mountain passes. Most winter driving related collisions can be avoided by slowing down."
Moore suggests motorists carry extra drinking water and snacks, along with blankets and warm clothing in case of delay.
Moore's warning comes at the heels of a winter storm watch warning issued by the Spokane office of the National Weather Service.
According to meteorologists, several rounds of snow are expected for the next few days throughout the mountains, and valley floors may see their first snowfall of the season.
"Mountain snow will continue this morning before becoming scattered by afternoon," meteorologists said early Wednesday morning. "A sound round of snow will occur Thursday and Thursday night, and has the potential to produce heavy accumulations over the Cascades and portions of north central Washington and northeast Washington."
The storm watch, which remains in effect from late Wednesday through Friday morning, locally includes Republic, Inchelium, Wauconda, Chesaw Road, Wauconda Summit, Boulder Creek Road, Sherman Pass, Leavenworth, Mazama, Twisp, Winthrop, Stehekin, Conconully, Blewett Pass, Loup Loup Pass, Omak, Okanogan, Brewster, Bridgeport, Oroville, Nespelem, Disautel Pass, Colville and Kettle Falls.
Officials said accumulations of 3-7 inches of snow can be expected in the valleys and 8-16 inches in the mountains.