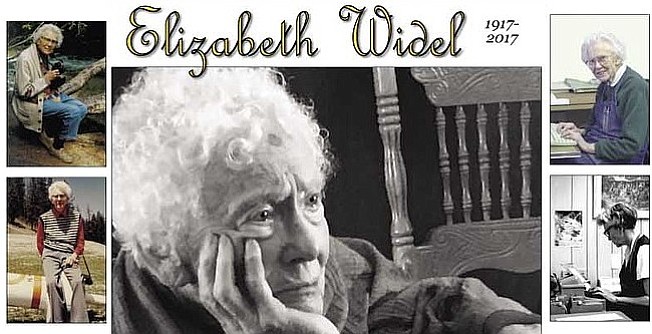 Wednesday, November 1, 2017
/lk
OMAK – Elizabeth B. Widel - longtime Chronicle employee, award-winning journalist, philanthropist and Omak resident - died Oct. 24 at age 100.
She was one of the nation's oldest working journalists, possibly the oldest.
Widel began working for The Chronicle in August 1954 and had been writing her column, "Exploring the Okanogan," since May 9, 1957. Her final column, No. 3,154, appears on Page A2.
"Elizabeth was a courageous woman who lived a long life filled with the beauty of Okanogan County and beyond," said Chronicle Publisher Teresa Myers. "She will be missed."
"Elizabeth's commitment to understanding her community and our place in the world was extraordinary," said former Chronicle publisher Roger Harnack, now publisher of the Daily Sun News in Sunnyside. "Every day I learned something new from her.
"Writing a column every week for 60-plus years is an achievement few journalists ever come close to matching. Her work ethic is something every one of us should strive to achieve in our lifetime. Elizabeth was steadfast in the belief of the strength of the written word. In this day and age of texts and tweets, her presence in journalism will be sorely missed."
"The end of an era at The Chronicle with Elizabeth's passing," said retired Chronicle publisher Judy Z. Smith. "What an amazing woman. Our lives were blessed by knowing her."
"Of all the attributes that stand out in my memories of Elizabeth — and there are so very many — it was her gift of writing that I especially cherish," said former Chronicle co-owner and publisher Mary Koch. "A master of the craft, her voice was unique. She owned a fluid, rich vocabulary yet was never pedantic.
"Her quiet sense of humor bubbled through in surprising ways. She held strong opinions, offering them calmly, always within the limits of civil discourse. In that sense, she was a significant mentor to the many young journalists who passed through The Chronicle newsroom doors."
"She was a loving, giving person, and helped many people and organizations too numerous to count," said Marsha Aufenkamp, a longtime friend and companion. "Her awards and honors began as a Girl Scout and continued throughout her life in work, in church and many activities."
An open house marking Widel's 100th birthday was held in July at Welcome Home Villa, Omak, where she lived during the last months of her life. She had lived in her own home until age 99, just a couple weeks after celebrating the publication of her 3,000th Exploring the Okanogan column.
Widel was born July 8, 1917, in Chicago, Ill., to Marie and Deszo "Dave Darius" Barta. She had three younger siblings, Bob, Dave and Barbara. The family later moved to Lombard, a suburb west of Chicago.
Longevity runs in her family – her father died three months short of his 100th birthday and her mother was 89 when she died. Both her brothers lived into their 80s; sister Barbara Barta – 11 years Widel's junior – still lives in Lombard, Ill.
After high school, Widel studied for two years at a college supported by her church, then spent her last two years at Northwestern University in Evanston, Ill. She earned a teaching degree, and was honored in college for academics and vocal music.
She first came to Okanogan County in the early 1940s to teach typing and business classes at Brewster High School. Because of World War II, many of the male teachers were being called into the service so she took on other subjects.
She returned to Illinois for a brief time, working as registrar for the Roosevelt College School of Music, and then returned to Okanogan County.
"By that time Glen had entered the picture," she said just before her 100th birthday, referring to Glen Widel, whom she married Oct. 9, 1954. He worked for the Brewster newspaper during the years she taught in Brewster, and later became The Chronicle's shop foreman.
"She fell in love with the country," her sister recalled.
Elizabeth Widel took a job in The Chronicle's front office in August 1954 and, over the years, worked as a typesetter – from Linotype to PC – society editor, reporter, copy editor, proofreader, photographer and columnist. She was a stockholder in the paper for more than 20 years, and also worked with the paper's finances.
Glen and Elizabeth Widel began writing their column, "Exploring the Okanogan," on May 9, 1957. She continued writing it after his death in 1961.
An editor's note that appeared with the first column said the Widels "travel nowhere without their cameras, and during the past several years have built up a striking collection of scenes and distinctive landmarks from every corner of the Okanogan."
Elizabeth Widel's reply, when asked about taking her camera everywhere, was always, "Did you ever try to take a picture with a camera you left at home?"
Every tree, rock, child, animal and object held interest for her – her photographs ranged from sweeping landscapes to close-up photos of everyday items such as eyewear and coffee mugs. Until she was physically unable to do so, she scrambled up cliff sides, down into creek beds and over boulder-strewn fields for photos as willingly and easily as she stood on a sidewalk or sat in a theater seat to snap a picture.
She especially loved the North Cascades, and trekked on foot into the mountains long before the North Cascades Highway was finished. She marveled at the engineering required to build a road through such rugged peaks.
The Exploring the Okanogan column provided an upbeat, thoughtful perspective on her adopted county and state. She embraced the area's beauty, geology, people, plants and animals, and conveyed that sense of wonder and appreciation to her readers.
Widel was honored in 1997 by the Washington Newspaper Publishers Association as the first recipient of the Dixie Lee Bradley Award, which is presented each year to an outstanding, non-newsroom employee of a member newspaper.
And this year, Exploring the Okanogan won first place in the general interest columns or blogs category during WNPA's annual Better Newspaper Contest.
The Chronicle dedicated its "Chronicles of the Okanogan" book, celebrating the newspaper's 100th birthday in 2010, to Widel. She was informed of the honor during a book release party Feb. 9, 2011, and Omak Mayor Cindy Gagne declared Feb. 9 as "Elizabeth Widel Day" in perpetuity.
Gagne's proclamation recognized Widel's Chronicle contributions, support of the arts, recycling efforts and preservation of history.
Widel also was honored June 10, 2015, on the floor of the U.S. House of Representatives by Rep. Dan Newhouse, R-4th District.
He called her "one of the most senior journalists in the Pacific Northwest. She has shared her love of the outdoors, her photography, and passion for all things concerning the Okanogan community."
Through her column and by sharing her stories, "her down-to-earth words of wisdom and her curiosity of the world around her, Elizabeth has shown a profound connection with the Okanogan Valley and has inspired generations of readers and those who know her. Please join me in celebrating the contribution and dedication of this remarkable lady, and explorer of things great and small," Newhouse said to his congressional colleagues.
Her love of geology was acknowledged by The Chronicle, which dedicated to her a boulder of gneiss in its parking lot.
Widel was active in the Omak United Methodist Church, serving as a lay speaker, bulletin editor and longtime treasurer, and was active in the church's recycling program. The State of Washington recognized her recycling work with an award in the early 1990s.
She received the church's highest honor, the Bishop's Award, on Feb. 12, 1994, from the United Methodist Church Columbia River District for her work as lay leader and chairperson of the district council on ministries. She was a lay speaker for churches in the local district.
She was a longtime member of P.E.O., and a longtime supporter of the arts, from the Okanogan Valley Orchestra and Chorus to the Omak Performing Arts Center and many others. She wrote reviews of musical events and plays for many years.
Widel devoted many hours to the Okanogan County Historical Society, printing many historic photos for its files and working on its quarterly magazine, "The Heritage."
Sam Reed, then-Washington secretary of state, made a special stop in Omak to visit with Widel during a statewide tour in 2009. He acknowledged her longevity in the newspaper business and dedication to the state's history and geology.
Among her many hobbies and skills were geology, woodworking, listening to music, hiking and reading. She enjoyed reading a diverse array of books and publications, from those about the landscapes and history of the Pacific Northwest to musical critiques, C.S. Forester's Horatio Hornblower series and Lilian Jackson Braun's "The Cat Who …" series of murder mysteries.
She was always a good reader and liked to sketch, said her sister.
"I think of her as an extremely creative person," Barta said in 2010. "She has a way of putting words together. She's totally, totally honest and dedicated to anything she puts her heart to."
Widel was an author as well as a reader. Her first book, "Okanogan County … a profile," was published in 1973 and features a shared byline with her late husband.
A second book, "Exploring the Okanogan," was published in 2015 and features many of her Chronicle columns. Proceeds from the book were donated to the Omak Performing Arts Center Foundation.
She also enjoyed exploring Okanogan County from the air, flying numerous times over the area with friends in their small planes and, in the mid-1980s, taking her first hot air balloon ride.
Over the years she was adopted by a series of cats, and she enjoyed their company. She once said she never intentionally went looking for a cat – they just came to her at the right time.
She is survived by her sister, Barbara Barta, Lombard, Ill.; sister-in-law Phoebe Barta, Nazareth, Penn.; nieces Allyn Dukes of Houston, Texas, Mary Whitwell of Rocky Mount, N.C., and Shirley Staggs of Omak; nephews David Barta of Eugene, Ore., and Robert T. Barta of Lombard, Ill.; granddaughter Martha Watkins, McBee, S.C.; grandnephews Clifford Dukes of Pierce, Colo., Reece Dukes of Houston, Texas, and Max Whitwell of Rocky Mount, N.C.; grandnieces Erica Walla of Eugene, Ore., Phoebe Whitwell of Rocky Mount, N.C., Johanna Whitwell of Rocky Mount N.C.; great-grandnephews Kalen Walla of Eugene, Ore., and Alex Dukes of Pierce, Colo., and longtime friend and companion, Marsha Aufenkamp, Omak.
She was preceded in death by her husband, Glen Widel; her parents, Marie L. and Darius David Barta; her brothers, David D. and Robert L. Barta, and sister-in-law Gladys Brown.
A memorial service will be at 11 a.m. Saturday, Nov. 4, at the Omak United Methodist Church, 130 N. Cedar St., with a potluck following.
Memorials are suggested to Okanogan County Habitat for Humanity, P.O. Box 1679, Tonasket, WA 98855, or the Omak United Methodist Church, P.O. Box 524, Omak, WA 98841.