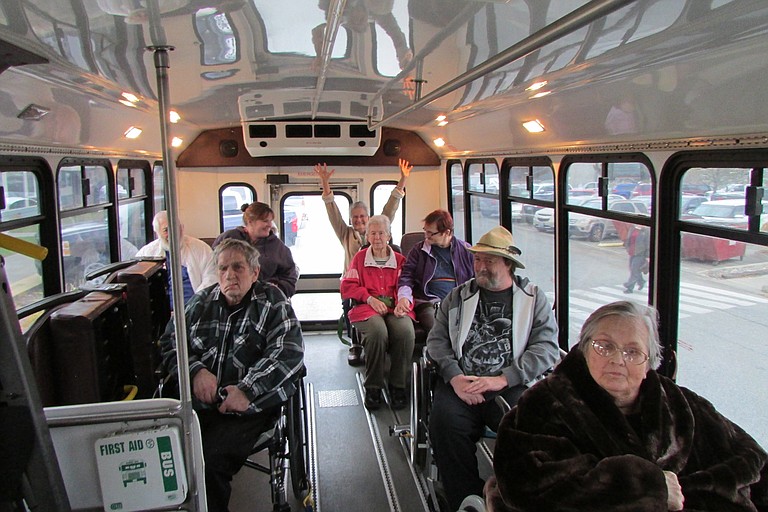 Thursday, November 2, 2017
/lk
TONASKET - Smiles slipped across the faces of some North Valley Extended Care nursing home residents as they prepared to board the facilities new bus Wednesday, Nov. 1.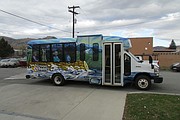 The Okanogan County Veteran's van was donated to the Extended Care earlier this year, and after some sprucing up, residents were taken on a trip to Loomis.
"They did see the sights, fall leaves, three lakes, cattle and wildlife," North Valley Hospital Foundation member Dixie Brown said Wednesday afternoon. "A nice ride for the first outing."
Local Veterans Legacy Project members Michael Stewart and Eric Fritts were initially planning on gifting a different van to the foundation, however, title and processing fees were going to be very expensive.
"During that time Michael and Eric were wondering if the local Veteran's Service office could use the older VA van and went researching for a bus. What they found and offered us was a 2009 Ford wheelchair bus in very good condition in lieu of the older van," Brown previously said.
The vehicle is equipped with heating and air conditioning for the front and back. An added bonus with the 2009 Ford bus is that in case of an emergency, it can be used as an evacuation vehicle for the Extended Care residents. The vehicle also includes a wheelchair lift, can transport 8-12 seated passengers and 2-4 wheelchair passengers and has large windows so residents can enjoy the scenery when traveling.
The NVCHA-NVH Foundation wishes to express thanks and appreciation for the extra effort put forth by the U.S. Armed Forces Legacy Association Veterans in helping the foundation achieve the goal for the Extended Care residents, veterans and staff.
"We appreciate you, the community, for your support and generous donations along with the grant from the Community Foundation of NCW that made these two very large projects possible," she previously said.