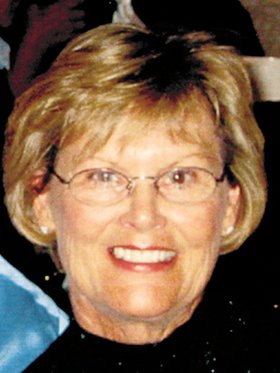 Luella Lee Green Schneider
Omak, Wash.
July 23, 1938 - July 5, 2013
Luella Lee Green Schneider died peacefully at her home surrounded by family on July 5, 2013. Luella was born July 23,1938 to Virgil and Nellie (Reid) Green in Okanogan, Wash.
Luella lived the first years of her life in Loomis and spent all her school years at Tonasket. She was a member of the marching band, Thespians, a cheerleader, Miss Jr. Rodeo Queen, Miss Buttercup Falls, achieved the Betty Crocker award, played the piano, and sang in the choir. She also was a member of the Order of Rainbow for Girls, was selected worthy advisor, and a representative for Grand Assembly.
After graduating in 1956, Luella attended WSC in Pullman, Wash. In 1957, she worked as a dental assistant in Okanogan.
She married Joseph William Schneider in 1958, and they began their life together in Okanogan. They expanded their family with two sweet little girls, Shelly and JoElla. In 1963, Joe and Lu moved to Tonasket where they purchased Tonasket Feed and Supply. It was a true family-run business. They purchased a 1200 acre ranch in Pine Creek where they raised cattle and horses. They named it the S-4 Ranch and raced their horses for many years. The family spent a lot of time horseback riding, rodeoing, swimming, skiing, snowmobiling, and just having fun. In 1979, they expanded their business by purchasing Omak Feed and Supply. Lu finished college at WVC by attending night classes and worked as a bookkeeper for both stores, and started a small furniture store.
In 1988, Joe and Lu built a new home in Omak on a 100-acre ranch where they raised hay. They retired in 2001 and spent much of their free time golfing, traveling around the country, making many new friends, and spending their winters in Arizona. Joe and Lu just recently celebrated their 56th wedding anniversary.
Lu was a member of the Chewelah Golf and Country Club, Okanogan Valley Golf Club, as well as other clubs in Arizona. Lu was past president of the Okanogan County Cattle Women, and past president of the Okanogan Omak Ladies Golf Club. She enjoyed gardening and playing with her grandbabies. She was a wonderful hostess to many large family gatherings and made the best mashed potatoes you've ever eaten.
Luella is preceded in death by her father, Virgil; her mother, Nellie; Aunt Arka; and Grandma Reid.
Luella is survived by her husband, Joe; her daughters, Shelly Freeman and JoElla Schneider; her stepmother, Lorraine Green; her brother, Gerald (Pat) Green; half-brother, Kelly Gann; five grandchildren, Nichole (Johnny) Gebbers, Codi Jo (Chris) Karr, Josh (Kayla) Sidwell, Chase Sidwell, and Sasha Sidwell; and six great-grandchildren.
Services will be held at 10 a.m. Saturday, July 13, 2013, at the Omak Presbyterian Church, 9 S. Birch St. Graveside services will follow.
Precht-Harrison-Nearents Chapel is in charge of arrangements.