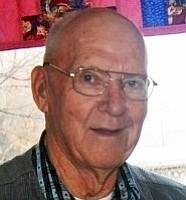 Arthur Nordang
Spokane, WA
February 7, 1930 - December 17, 2017
Arthur Nordang passed away in Spokane, Wash., Dec. 17, 2017, surrounded by his loving family and friends. Art, the eldest of two children, was born to Arthur S. and Ada Nordang in Snohomish, Wash., on Feb. 7, 1930.
Art grew up on the family orchard on McFarland Creek. He would spend a lifetime with the joy, kinship, and abundance of stories from those who shared their Norwegian roots. He loved the history and the land which had been part of his family for so long.
He attended the one room schoolhouse in Methow until transferring to the Pateros school. Upon entering the new school, he met Grace Brownlee and the path to the rest of their lives was set. He graduated from Pateros High School in 1947. Following graduation, Art attended Central Washington State College before returning home to marry Grace and take over the management of the orchard full time. Art and Grace were married Dec. 12, 1948 in Pateros, Wash. They celebrated their 65th wedding anniversary in 2013. Grace passed away April 27, 2014.
Art ran the orchard until 1961, then left briefly to pursue his interest in trucking. The family moved to Tekoa, Wash., and lived there until 1963.
Returning to Methow, Art worked for Munson Nash for a short time before starting Nordang Trucking in 1968. He continued to work on the ranch and with Greg in the business he loved, for as long as he could. Art was active and working on projects right up to the end.
Art is survived by his three children, Greg (Judy) Nordang, of Twisp, Wash., Suzan
(Richard) Turner, of Reardan, Wash., and Martin Nordang, of Methow, Wash.; his two grandchildren, Brandon Turner and Kristen (Turner) Tyson; and three step-grandchildren, Joel Spencer, Jeffrey Spencer, and Jennifer Rogers. He is also survived by his sister, Maribeth Foust; and numerous nieces and nephews.
In his last days, Art and the family were blessed with the amazing compassion and care at Spokane Hospice House. A celebration of his life will be at 11 a.m., Saturday, Dec. 30, at the Pateros Methodist Church. Any memorial donations can be made to Hospice of Spokane, PO Box 2215, Spokane, WA. 99210-2215.
Please leave any thoughts and memories for the family at www.barneschapel.com. Barnes Chapel of Brewster is entrusted with the services.