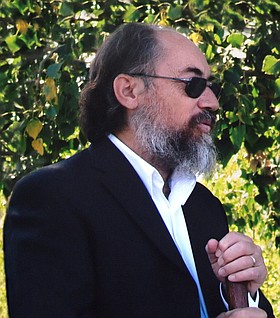 David Lee Hellyer
Omak, WA
March 16, 1957 - October 18, 2017
David Lee Hellyer was received in glory last Wednesday night, Oct. 18 at 11:50 p.m. by his King, Lord and friend Jesus, his parents James and Helen (Betty) Hellyer, and many witnesses who have gone before.
We were blessed with this tower of God's strength on March 16, 1957. Christ was truly David's First Love, and he devoted his life to spreading the love of God and admonishing God's truth to everyone he met. God blessed David with a humble intellect and wisdom we all drew from, honesty that would not deviate from God's truth, and a sense of humor you had to experience to appreciate. He fiercely loved his family, and interceded faithfully for them, his church family and for his community.
He leaves behind his beloved wife, Dawn Hellyer; his brother, two sisters, and their spouses: Steve and Alix Hellyer, Phyllis and Larry Straight and Laurie and Lee Krumm, his children and their spouses, Jeremy and Dee Hellyer, Joshua and Nichole Hellyer, Jessica Yeager, Jeannie and Jeremy Thoren, Joyous Theodorson, and Orion and Erin Miller, twenty five grandchildren, and two great-grandchildren.
A celebration was held last Saturday at the Omak First Baptist Church by David's good friend, brother, and pastor, John Richards. In lieu of flowers, please feel free to give to Manfisher or any other local Christ centered ministry.
"Fear God and Celebrate!" Dave would say. "I've just gone to the next room."