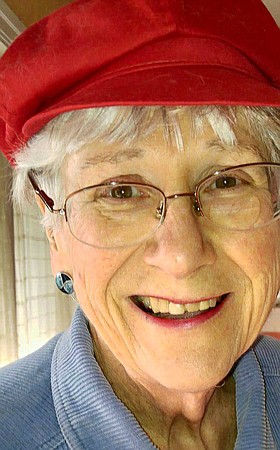 Laurie Y.J. Aleona
December 27, 1939 - October 4, 2017
Laurie Y.J. Aleona
1939-2017
Laurie Y.J. Aleona (née Jones, a.k.a. Laurie J. Clark) having survived a life-threatening motor scooter accident, breast cancer and losing a spleen to a motorcycle accident, passed away on Wednesday, Oct. 4, 2017 after suffering from Alzheimer's dementia for several years. She is preceded in death by her mother and father, of Aberdeen, Wash. and her cousin Nan Smith (Winfrey), of Omak, Wash. She is survived by her only daughter, Laura Romero and her son-in-law, Cristian, of Tacoma, Wash.; her older brother Theron Howard Jones, of Clackamas, Ore., her sister-in-law, Tina Jones, nieces, nephews and cousins, Evelyn Sapp, of Conconully, formerly of Omak; Marilyn Knapp, of Okanogan.
Born in Aberdeen, Wash. on Dec. 27, 1939 to Theron William Jones and Leona Mae Jones (née Warner), Laurie grew up with her brother in Brady, Wash., and went to school in Montesano, Wash., where she graduated from Montesano High School Class of 1957.
After high school, Laurie attended Grays Harbor Community College, and after she earned a Bachelor of Arts in Christian Education at Warner Pacific College, Portland, Ore. From 1962 to 1964, Laurie joined the Peace Corps., a new program with the U.S. Dept. of State under President Kennedy's administration. She lived in Bogotá, Colombia for almost two years before returning in 1964. She obtained her Master's Degree from Scarritt College for Christian Workers, and while in Nashville, Tenn. she met her husband and father of her daughter, Robert L. Clark, Jr. After they were married, they relocated to Pomona, California, but were often separated due to Robert's military service in another state.
When Laurie's family experienced the tragic loss of her mother in the spring of 1968, there was joy 9 months later upon the birth of her daughter, Laura Leanne in January 1969. Her marriage ending in 1972 was another heavy loss, but Laurie and Robert remained close friends until his death in 2008.
In 1972, Laurie worked as Director of Christian Education at the UMC Scottsdale, which began a long career of Christian ministry. From 1975-1978, Laurie attended the Claremont School of Theology; after graduation she was ordained into the UMC Pacific NW Conference, to return home to Washington state. She was Associate Pastor at First UMC, Wenatchee for 18 months then moved to be sole Pastor at Omak UMC, which included Sunday services at Conconully during the summer months.
At Omak UMC, she succeeded her colleague and good friend, Roger Barr, fellow Claremont School of Theology alum. Through her organizing, teaching and pastoral skills, building on the previous work of Rev. Roger, Laurie helped enlivened the church, coordinated restoration on the building and grew the membership each year. She preached a message of love and inclusion and showed that love and inclusion outside of Sunday service, at other church and community programs and events.
In Omak, Laurie made many good friends among and outside of her church family. She played cornet for the Village Green Marching Band, who happily declared that they never practiced. She lead Youth Group and organized everything from weekly meetings to fall harvest hay ride and cider pressing to a big trip for the church youth to visit Seattle, to give them new experiences. At the parsonage, she used the large backyard for a vegetable garden, lush full of fresh vegetables every summer and fall.
After 3 1/2 years in Omak, Laurie was reassigned to UMC's Capitol Hill and Magnolia, Seattle, Wash. She was in Seattle from 1984 until 1990 when Laurie was appointed to Vashon UMC until 1996; then she received what turned out to be her last appointment at Manson UMC. Happily she returned to eastern Washington, to small town life again and more sun. She served the Manson UMC for five years and then retired early from the ministry due to health issues.
Over the years, Laurie's creative spirit compelled her art and her love of making things: sewing clothes, crafting wooden furniture, crafting useful, household items, creating art, painting and coloring. She enjoyed fixing things, home improvement, gardening, being with her pets and she participated in choirs, chorales and with various non-formal concert bands. Some of Laurie's other favorite activities were having visits with friends near and far, continuing education & scholarly events, and travelling: she returned to Colombia in the late 80's, she has been to several countries in South America, Mexico, Canada, and she took a spiritual heritage lecture tour to Scotland, England Wales and Ireland that was a very special adventure for her.
After relocating to Wenatchee Valley area in her retirement, Laurie moved in 2012 to Tacoma, Wash. to live with her daughter and son-in-law, with her own living, bathroom and bedroom. In May of this year, even with her advanced disease, Laurie was able to attend the Montesano High School 60th Reunion Class of 1957. It was a very special reunion luncheon. Old classmates were delighted to see her. Laurie lived with her daughter who cared for her until this August.
Laurie's lessons and influence have been felt by countless church members, associates and communities across Washington State. So while we grieve the loss of our mother, dear pastor and loving friend, we remember Laurie with fondness, celebrate her life with joy and feel blessed to have known such a unique and generous woman.
Please join us at the Memorial Celebration of Life for Laurie Y.J. Aleona on Saturday, Nov. 4, 2017 at 3 p.,m. at First United Methodist Church of Tacoma, located at 621 Tacoma Ave S, Tacoma, WA 98402. For those who can walk, additional parking is found behind the Tacoma Public School building on Tacoma Ave S, at 601 S 8th St, Tacoma, WA 98405, across the street from the church. Flowers and cards can be sent to the church at the address listed above.