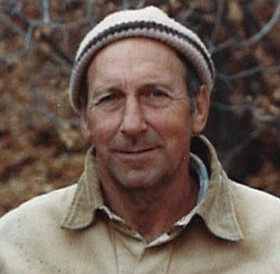 David Groche
Saco, MT
March 25, 1930 - October 17, 2017
David Groche passed away at his home In Saco, Mont. after a lengthy illness on Oct 17, 2017.
At his request there will be no services. A celebration of life will be held on Nov 19, 2017 in Saco, Mont. and again in Omak, Wash. at a later date in the spring. Condolences for the family may be left at www.kirkwood funeralhome.com.
David was born to August "Gus" and Violet Rowley Groche Opp, in Omak, Wash. on Mar 25, 1930. After graduating high school, he attended Wenatchee Valley College from 1948-1950.  David then entered the U.S. Army in 1950, becoming a-Paratrooper (Pathfinder) with the 11th Airborne Division at Fort Campbell, KY. During his time David earned the National Defense Service Medal and honorably discharged in February 1953. He returned to the College of Puget Sound (UPS) on a football scholarship from 1954-1956, earning his degree in Education K-12. On May 22, 1954 David married Janet K. Stout in Omak, Wash. During the summers from 1958-1963, he attended Eastern Washington University (EWU) to earn his Masters degree in Education with Principals Credentials.
David became a Teacher and Coach (Football & Basketball) in Omak, Wash. from 1956-1963.  In 1963, he and Janet moved to Wenatchee, Wash. where he continued teaching and coaching at Pioneer Middle School until his retirement in 1982.  During the summers, David worked with the Washington Forest Service as a Fire Guard in Entiat, Silver Falls and Cottonwood. After retirement David did a variety of jobs.  The past several years he spent summers in Wenatchee, Wash. working for Excel Fruit Brokerage, based in Yakima, Wash.  The winters he spent in Saco, Mont. feeding supplement to cows for his good friends Darrell and Loretta Menge. He truly enjoyed working.
David also enjoyed sports and outdoor activities.  He kept up a schedule of physical fitness to keep his body in shape and never smoked.  He was an avid hunter, always managing to get out hunting, no matter how busy he was; which was one of the main reasons he loved living in Montana.
He was a kind, loving, caring and truly nice person.  Always ready to give you a helping hand, a word of encouragement, or a pat on the back for all jobs well done.  His sense of humor was contagious, his first words to start a conversation were "have you heard the one about" he had a joke for every occasion.  David lived a full, rich life on his terms, always, and died the same way.  He will be missed dearly, and remembered with fond memories by his family, his many friends and all the students he taught.
David is survived by his wife, Janet, of 63 years in Saco; daughter, Marcia Groche (Scott) of Kingman, Ariz.; son, Dan Groche of East Wenatchee, Wash.; sister, Gloria (Bill) Carlton of Seabeck, Wash.; grandchildren, Cole Groche and Sara Arnold, both of East Wenatchee, Wash.; nieces, Pamela (Tony) Martin also of East Wenatchee, Wash. and Patty (Dave) Olsen of Seabeck, Wash. He was preceded in death by his parents; stepfather, Alvin Opp; nephew, Douglas Carlton; numerous aunts, uncles and cousins.