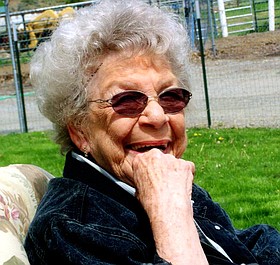 Mary "Sue" Sue Myers
Malott, WA
unknown - October 30, 2017
Mary Sue Myers, "Sue", 87, of Malott, Wash., passed away peacefully on Monday, Oct. 30, 2017 at Mid Valley Hospital in Omak. Sue married the lover of her life, Lowell "Sonny" Myers, and they shared 44 beautiful years of marriage together. They had three children, David, Douglas and Bruce.
Born in Okanogan, Wash., Sue was the daughter of Victoria and Graham Harris, and sister to siblings, Gaye, Red, Bill and Bobbie. She attended and graduated from the Okanogan School District. Sue had various jobs throughout her life, one of which was owning and operating the Dew Drop Inn Tavern in Malott, with her husband Sonny. The two of them also spent several years in Alaska where Sue was a cook in a logging camp.
Her favorite, and what she enjoyed the most, however, was being a homemaker.
Sue was a beautiful and talented seamstress. She enjoyed sewing for her granddaughter's and loved taking her sewing machine camping, where she would start up the generator and sew a good portion of the day with her good friend, Enid Tugaw. Sue and Sonny loved going camping with their family and friends, especially to Crawfish Lake where many summers were spent fishing, hiking, and exploring. Along with sewing, Sue enjoyed quilting, crocheting and woodworking.
She was also a member of the Malott Chiliwist Club, which she enjoyed for many years.
Sue is survived by her son, David L. (Cathy) Myers of Malott; her granddaughters, Kimberly (Brett) Morris of Okanogan and Melissa (Curt) Ogden of Malott; her great-granddaughter, Chelsey Myers of Omak; her great-great grandson, Ty Carden of Omak; her brother Bill (Nevada) Harris of Okanogan and many beloved nieces and nephews.
She is preceded in death by; her husband, Lowell "Sonny" Myers, two sons, Douglas and Bruce Myers; her sisters, Gay Wehmeyer and Barbara Harris, her brother Red Adams and her parents.
A memorial service will be held 11 a.m. Saturday, Nov. 11, 2017 at the Precht-Harrison-Nearents Chapel on Elmway in Okanogan. A brief urn burial will be at the Okanogan City Cemetery following the Chapel service and before the potluck luncheon scheduled at the Okanogan Eagles.