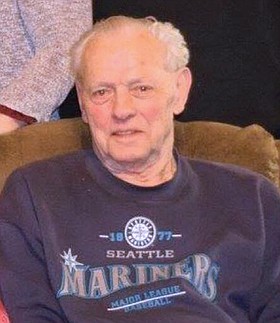 Donald Lay
Omak, WA
August 2, 1933 - October 10, 2017
The family of Donald Lay regretfully inform their friends and neighbors that, surrounded by his loving family, Don died peacefully at home on Oct. 10, 2017.
Don was born in Missouri on Aug. 2, 1933. When he was four the family moved to Omak, where he graduated from High School in 1951. Shortly thereafter Don entered the U.S. Army and was stationed at Ft. Lewis in Tacoma. Also, while in the Army, on December 26, 1953, Don married Lauretta Lupis, also from Omak. During their 63 happy years together, Don and Lauretta had five children: Maryanne (Mike), Linda (Kelly), Frank (Sandy), Gloria (Randy), and Donnie (Jean). He also leaves behind 10 grandchildren, 9 great-grandchildren and another on the way.
Don was a man of many talents. He owned and operated Lay's Automotive Repair until his retirement, at which time he began assisting in his son and daughter-in-law's veterinary practice. He was a master craftsman having built two family homes. According to his children, "There was nothing that Daddy (Pops) couldn't build; there was nothing that Pops (Daddy) couldn't fix".
Nothing was more important to Don than his family with whom he and Lauretta made many happy memories: cruises to Alaska, camping trips throughout the western United States and Canada - fishing, crabbing, and clamming. In his later years Don became a master baker. His specialties were burritos, breads, rolls, cookies, bagels, and, best of all, his outrageously delicious rhubarb crisp. When Don wasn't baking he relaxed with jigsaw puzzles and marathon games of pinochle. But "Christmas on the farm" was the best time of all when we gathered together to share food, to tell stories, and to welcome St. Nick.
It is difficult to imagine the future without Don. We are all devastated, heartbroken that he is gone. But we are comforted by the fact that his loving presence permeates our lives and always will.
At Don's request there will be no services. However, at a future date there will be a celebration of his life.
In lieu of flowers the family suggests donations be made to: Friends of Hospice, 800 Jasmine St., Omak, WA 98841.