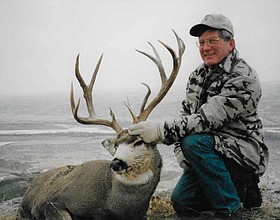 Fred Miller
Winthrop, WA
August 5, 1944 - October 13, 2017
Fred Miller, 73, of Winthrop, Wash. died suddenly at home on Oct. 13, 2017. Fred was born in Twisp, Wash. on Aug. 5, 1944 to Ray and Pauline Miller of Holden, Wash.
Fred attended his earliest years of school at Holden, Wash. and Wenatchee, Wash. He and his family moved to Nye, Montana in 1953 where Fred attended schools through his sophomore year of high school. It was in Montana where Fred acquired his consumate love of hunting and fishing, spending many hours in the Montana outdoors learning from his Dad. In 1960 his family moved to Quincy, Wash. where Fred graduated high school in 1962. When serving in the U.S. Army 101st Airborne from December 1963 to January 1966, Fred received several awards for shooting accuracy and was honorably discharged. Completing his military service, he then attended and graduated from the National School of Meat Cutting in Toledo, Ohio.
In 1970, Fred married Pam Miller of Quincy, Wash. They moved to Sitka, Alaska where Fred worked as a butcher and logger. It was in Sitka where his son Jason was born in 1975.
After returning stateside Fred moved back to the Methow Valley where his heart was. Here he worked construction, running a gravel pit and heavy equipment for many years in the valley as part owner of M&N Construction. He married Ann Harvie of Winthrop in 1978. His most recent and longtime work took him to the west side of the mountains where he operated heavy equipment for Granite Construction. Fred lived and breathed hunting and fishing, and many countless memories of these activities will be remembered by his closest friends throughout the valley and west side. His nieces especially and family always loved to be told his stories about his exciting and sometimes death defying hunting adventures.
Fred was preceded in death by his parents. He is survived by one son, Jason, of Houston, Texas; grandchildren, Cole and Emma of Quincy, Wash.; a sister, Linda Pershall (Dan) of Wenatchee; nieces, Natalie of Phoenix, Ariz., and Sallye of Bellingham, Wash.; cousins, Foss Miller and Beverly Miller of Vashon, Wash., Monte Hicks of Coupeville, Wash.; and many best hunting and fishing friends.
A notice for a celebration of Fred's life will given at a later date for the summer of 2018.