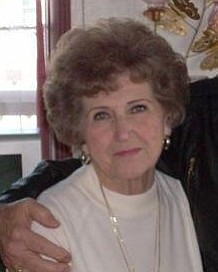 Geraldine "Gerri" Lucille Knapp
Omak, WA
December 5, 1932 - October 17, 2017
Geraldine Lucille Knapp "Gerri", 84, died on Oct. 17, 2017 with her family by her side. She lived in Omak, Wash. She was born on Dec. 5, 1932 in Orofino, Idaho to Nona Thompson and Russell George.
Gerri was raised in Orofino, Idaho and later Lewiston, Idaho. She graduated from Kinman Business School with a business degree. She married Kenny Knapp in 1950. They had four children together – Dan, Ken Jr., Vicki and Deena. She and Kenny started a construction business and moved to Omak, Wash., in 1964. They were in business for 28 years until they sold the business. Gerri loved to crochet, paint and garden. She loved having her family around her. Gerri was a strong Christian and loved the Lord. Gerri was active in her church for many years.
She is survived by her children, Dan (Tonia) Knapp, Ken Knapp Jr., Vicki (George) Bringman, and Deena (Jeff) Boesch. She is also survived by her grandchildren, Sally Knapp, Kenny Knapp III, Jim Bringman, Holly Bringman, Tarri Knapp, Lauren Meyers, Meagan Knapp, Chris Knapp, and Cortney Rosco as well as 15 great-grandchildren.
Gerri was preceded in death by her husband and the love of her life, Kenny; her two brothers; and her grandson, Danny.
A memorial service is being held at 11 a.m. Saturday, Oct. 21, 2017 at the Precht-Harrison-Nearents Chapel on Elmway in Okanogan. Precht-Harrison-Nearents Chapel and the Okanogan County Crematory of Okanogan are caring for the arrangements.
Services Location
Precht-Harrison-Nearents Chapel
2547 Elmway St Okanogan, WA 98840
509-422-3333