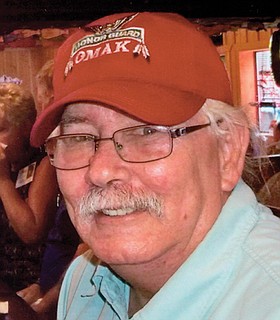 Richard "Spider" Bradshaw
Omak, WA
May 11, 1948 - December 8, 2017
Richard Bradshaw (aka Spider), passed away Dec. 8, 2017. He was born May 11, 1948 to Roy and Delores Bradshaw.
Richard served 8 years in the U.S. Army including two tours in Vietnam as a helicopter medic. While serving he received a Purple Heart and the Army Commendation Medal for Heroism . He was very proud to be a part of the Colville Tribal Honor Guard.
He was best known as Coach, Ref and Ump for all related sports activities. He retired from the Department of Social and Health Service in 2009 where he was always the life of the party.
He was preceded in death by both parents.
He is survived by wife, Janet Mackie, of Omak; his children, Nicki, Shawn, Dawn, Randy, Robbie, Ryan and Staci, his step-children, Lisa, Steven, Andrea and Shana; is sisters; Margie, Shannon, Linda, Clara Jo and Dianna, his brothers; Randy, Doug and Sam.
Services were Dece. 14, 2017, at the Longhouse.
Richard would have hoped that we all continue to honor and support all our armed forces past and present.