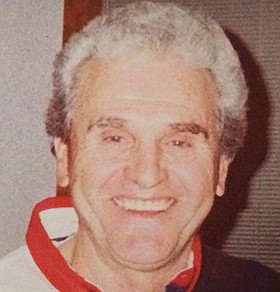 Pastor JC Baughman
Okanogan, WA
March 18, 1943 - December 25, 2017
Pastor JC Baughman of Okanogan, Wash., passed away in the early morning hours of Dec. 25, 2017, after a long, courageous battle with Alzheimer's.
He was born in Harrison, Ark., March 18, 1943 to Lewis and Cecil Baughman (Patton). He attended grade school and graduated from Bergman High School where he excelled in athletics. In 1960, while attending Bergman High, he met the love of his life, Joyce Kaye Hall. The two were married Dec. 8, 1961 and had one child, Nicholas Jay.
In June of 1966, he moved his family west to Yakima, Wash. where he worked in the fruit and timber industries. In 1976, JC accepted the position of Pastor for the New Hope Chapel in Omak, Wash. It was here that he also began his career of a land surveyor, which enabled him to enjoy the great outdoors of the Okanogan Valley.
JC was a very accomplished musician. Singing, guitar, song writing, and that banjo! He received Gospel Music Awards for his vocal talents.
Outside of being a Pastor, JC enjoyed packing his horse Rusty and mules Jocko, and then later on Jed, and going off to spend a couple weeks in the mountains, not necessarily hunting or fishing. If he did bring home something that was a bonus. He also enjoyed hiking, basketball and his Bible.
JC was preceded in death by his wife of 53 years, Joyce; his parents, Lewis and Cecil Baughman; and a sister, Lenora. Surviving family is son, Nicholas (Joanne); TJ (Barb), Bette Anderson, Frank, Louella (Gene) Tabor, John (Ginny), Barb (Leon) Adams, Kenyon (Rita); two grandchildren, Conrad James and Laurel Ann Baughman; and one great-grandchild, Hannah Marie Baughman; also numerous nieces and nephews from Yakima to Missouri.
Dad gave his life to the Lord and served him until the day he died. We give back to him, our most precious gift, JC Baughman.
The Baughman family would like to give our special thanks to the family of Sam and Darlene Patrick, who cared for JC in the years after his wife's death. Their sacrifice has be invaluable.
A memorial service is planned for 2 p.m., at the Lighthouse Chapel in Riverside, Wash., on Jan. 20, 2018.
We hope to see you there and welcome all your stories of Dad.
In lieu of flowers, the family is accepting donations in care of Keith & Keith Funeral Home.