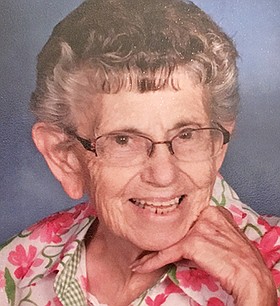 Pearl Webster Crossler
East Wenatchee, WA
June 10, 1929 - January 1, 2018
Pearl Webster Crossler passed away Jan. 1, 2018, at her home in East Wenatchee, surrounded by her children.
Pearl was born June 10, 1929 in Branson, Mo. to a family of eight girls and one boy. On Dec. 18, 1946, our brown-eyed lass married the blue-eyed love of her life, James "Joe-ab" Hoyet Webster and they went on to have six beautiful, high spirited, children.
Life takes hard turns sometimes and at 30 years old, she was left to face the hardest job of her life, to raise their children on her own. She taught us how to grow up, how to live and in the end, how to die gracefully.
To Pearl, her children were her life. She always gave freely and helped those she came in contact with if she could. She worked many years in and around Omak and Wenatchee until into her 80's, always making friends and leaving good memories where ever she went.
Pearl had great faith and was very devoted to her church. Proverbs 31 talks about a woman of great dignity and strength who can laugh at life and accept it, and provide for her loved ones. That was our "Little Mama"!!
Pearl was preceded in death by her husband, James Hoyet Webster; and grandchild, Charles James Webster.
She is survived by all of her children, Lawrence Webster, Jack Webster, LaDonna Muscatell, Dorothy Andrewartha, Sandra Carson and James Webster, Jr. As well as, 12 grandchildren; 16 great-grandchildren; and one great-great-grandchild; and many nieces, nephews and friends.
A memorial celebration of her life is planned for 1 p.m., Saturday, Jan. 6 at the Eastmont Community Church in East Wenatchee.
In lieu of flowers, the family asks that donations be made to the Omak Food Bank.